Uso de Suelo; Well Water!!; Rentals


» NOTES
When I started Residencias Los Jardines, I started writing a weekly news letter —determined to tell all the good, bad, and the ugly. I knew some readers would be interested in the construction process. I expected others might be interested in the lifestyle of two people who had decided to live outside the box. For others, the adventures of lita, the parrot and the cat took on an entertainment saga all its own.

Residencias Los Jardines is finished. We periodically have resales and rental availability. Some readers may be interested in this information.

More and more, the content will be dominated by events of our new project, "El Dorado" for short. While the future is always uncertain, I again aim to tell it like it happens —the good, the bad, and the ugly, and that is what follows.

In an effort to make the format more interesting and visually appealing and to field inquiries re. El Dorado, the news letter is now being distributed by Jan Kozak, Marketing Manager, Hacienda El Dorado. I will remain the author.

Brian C. Timmons, Author
Residencias Los Jardines/Hacienda El Dorado - Developer
E-mail: brian@eldoradocostarica.com

» CONSTRUCTION LOG
Uso de Suelo--Land Use Permit: Last week I wrote: "This has become too stupid for words.... " and while this week's discussions have added a few "he said / she saids" the story is essentially unchanged. except it seem that is was the Muni who wanted our surveyor to put a notation on the more current version of the survey which would then be registered. Now, they seem to have changed their minds or the surveyor misunderstood what they wanted or ....... And that story is: We have an uso de suelo issued in 2007 which the City maintains is sufficient for INVU. Our consultant does not believe it is. The surveyor and consultant will meet with the City on Monday for further discussions. Depending on that, we will submit the 2007 uso de suelo to INVU and see what they say. If they do not accept it, the plan is to get their rejection in writing and return to the City at which point we will try to bring pressure on them. The anomaly in question--"right of way" or "roadway" designation is outside our property--it really has NOTHING to do with us; the area is not now nor never has been either a roadway or a right of way since squatters have built all types of houses some of which appear to have been there for 30+ years..... This will eventually be sorted out but it may take a couple weeks only to end up where we should have been a month earlier and nothing of value added.

Well Water: We thought this was a dead issue since the new controller of underground water (AyA) said we had to use their water and because they couldn't provide it, we could build the system, give it to them, and then, they would let us use the water at the normal cost. While we didn't like this, we had no alternative. Ten days ago, it seems that a law was passed overturning AyA's interpretation. The new law seems to say that condominiums can use well water. We are now back to requesting the authorities to use our proven well water. If this happens, it makes our life easier and brings our costs back to what we had expected. I guess some influential people didn't like AyA's policy and proceeded to have it changed. .

» RESIDENCIAS LOS JARDINES
Satellite Signal: Even though we have a new, three meter dish, we've had a weak signal for the past several weeks. The problem seems to be that some of our trees are interfering especially when the leaves become wet and the branches sag. We'll cut them back--again--and check the signal quality and strength. June and July tend to be the weak signal months but I'm sure trimming the trees will help.

Planting Grass Seed: Normally, grass is laid as sod--already established grass with a thin layer of soil cut into squares. I saw some N. Am. packaged shade grass seed and bought it. Showed the gardeners where to put it to repair the existing areas. It didn't happen and I could tell from previous experience, that it wasn't likely to happen....it occurred to me that they didn't k now how to plant grass seed. I was correct; when showed how, it got done. We'll see if it works in the fairly shaded areas where applied.

Rentals: 124--Immediately; 121 beginning June 25 ------We have seen a marked drop in the number of people looking for rental units over the past several weeks. We've had no inquires on the one bedroom and only a few looking for two bedroom units. We did have agents bring a corporate client who is looking for seven, two bedroom rentals....their company builds cell phone relay towers and then leases space back to cell phone providers..... They've done this in a number of Central American countries and are now moving into CR. We might actually get a cell phone system here that works reasonably well without large "dead zones".....

For Sale: 109 only.

107 is scheduled to close July 1. The paperwork has been signed and all has been agreed to.
Units for Sale/Lease: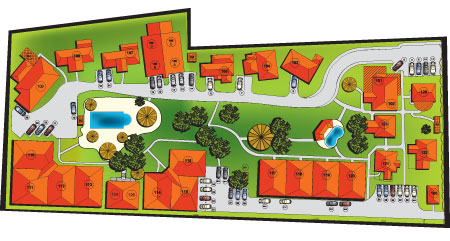 Unit #

109

--

For

Sale $214,900 - FURNISHED (Leased until July 11, 2009 - $1,550 pr month)

Total Area (Sq Ft):
1506
Total area (Sq M):
140
Bedrooms:
2
Bathrooms:
2
Floor(s):
1 Story
Type:
Detached
Furnished:
Yes
This single story home (1506 sf. + parking
for
one car) is detached, has two bedrooms, two bathrooms, home office, living room wall / entertainment center along with a built in office and a semi-private terrace. In addition, it has a vaulted ceiling in the "great" room and two skylights. The covered entrance way is suitable
for
two chairs located next to a covered garden area. Once through the impressive front door, you enter the "great room" which houses the kitchen, dining room, office and living room. Upon entering, there is a built in wooden hutch surfaced with granite—it matches all the built-in furniture in the great room. There is a clothes washer and dryer off the 2nd bedroom. It may also be used
for
storage.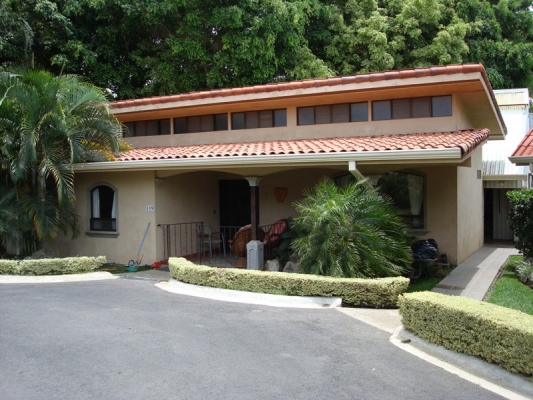 Read More
Unit

124

-

For

Rent

at $950 pr Month FURNISHED

Total Area (Sq Ft): 662
Total area (Sq M): 61
Bedrooms: 1
Bathrooms:1
Floor(s): 2nd Floor
Type: Semi-Detached
Furnished: Yes
This 662 sf, + covered parking
for
one car, is a one bedroom home on the 2nd floor overlooking the large pool. It is ideal
for
a single person or couple.
Unit

#

121

- For Rent - $1,650 - (Available June 25, 2009)

Total Area (Sq Ft):1423
Total Area (Sq M):131
Bedrooms:2
Bathrooms:2.5
Floor(s):2 Story
Type:Detached
Furnished:Yes

This two story, detached 1,423 sf home + parking for one car has two bedrooms, 2 ½ bathrooms and a 2nd. floor covered terrace.

The open railed wrought iron cement stair case leads to the 2nd. level where the master bedroom with en-suite master bathroom as well as 2nd. bedroom and en-suite bathroom are located. Also accessed from the 2nd. floor hallway is the covered terrace.

This is a very nicely furnished home with a good floor plan for those wanting two floors.



» NEWS FROM COSTA RICA
June 13, 2009
No More Vehicular Restrictions In San José!
(Inside Costa Rica) The Sala Cuarta or Constitutional Court said in Friday that the vehicular restrictions of San José which impedes circulation of vehicles in the downtown core, depending on the last digit of the license plate, as unconstitutional and thus declared the restriction null and void.
Read
June 13, 2009
Virilla Bridge To Be Finally Repaired, Forcing General Cañas To Be Closed
(Inside Costa Rica) It has only been a few months since a gaping hole appeared on the bridge over the Virilla river on the autopista General Cañas, when work crews of the ministerio de Obras Publicas y Transportes (MOP), placed a steel plate over the hole and put the actual repair of the bridge on hold.

Read
June 12, 2009
Signs of recovery in Costa Rica?
(The Tico Times) Costa Rica may be riding above the deep economic flood that's washed over other developing countries.

Read
» OUR LIVES
Weather:
Little rain this week. Plants and grass are happy...
Cheap Booze:
this posting prompted several people to ask directions. I had to make a map, develop directions and take a few supporting pictures. Evidently the information was adequate because I heard that people were able to find L&L Licoria.
Medical Procedure:
On Monday, I'm having a colonoscopy and a gastroscopy --- $200 total. I'm not looking forward to this--I don't think anyone does but I've spoken with some who have survived this procedure, but it's one of those things which is prudent with age. The goal, of course, is to NOT find anything..... After this past year of permit application, I should think a flashlight and retractors would be adequate, but.....
Brian, Lita, Hugo, irreverent Vicka, the pigeon toed parrot, and the newbies — Chico and Chica.
Brian C. Timmons, Newsletter Author
Residencias Los Jardines/Hacienda El Dorado - Developer
E-mail: brian@eldoradocostarica.com

For inquiries about availability of residences at Hacienda El Dorado or Residencias Los Jardines, contact:

Jan Kozak, Marketing Manager
Hacienda El Dorado
Rio Oro, Santa Ana
Costa Rica
Web: www.eldoradocostarica.com
E-mail: info@eldoradocostarica.com
MSN: jan.kozak.jr@hotmail.com
Skype: jan.kozak.jr
Tel (US) (+1) 647-477-5825
Cell: (+506) 8345 8018