Uso de Suelo; Cheap Booze!!!


» NOTES
When I started Residencias Los Jardines, I started writing a weekly news letter —determined to tell all the good, bad, and the ugly. I knew some readers would be interested in the construction process. I expected others might be interested in the lifestyle of two people who had decided to live outside the box. For others, the adventures of lita, the parrot and the cat took on an entertainment saga all its own.

Residencias Los Jardines is finished. We periodically have resales and rental availability. Some readers may be interested in this information.

More and more, the content will be dominated by events of our new project, "El Dorado" for short. While the future is always uncertain, I again aim to tell it like it happens —the good, the bad, and the ugly, and that is what follows.

In an effort to make the format more interesting and visually appealing and to field inquiries re. El Dorado, the news letter is now being distributed by Jan Kozak, Marketing Manager, Hacienda El Dorado. I will remain the author.

Brian C. Timmons, Author
Residencias Los Jardines/Hacienda El Dorado - Developer
E-mail: brian@eldoradocostarica.com

» CONSTRUCTION LOG
Uso de Suelo--Land Use Permit: This has become too stupid for words.... We have an uso de suelo issued in 2007 which the City maintains is sufficient for INVU. Our consultant does not believe it is. The surveyor and consultant will meet with the City on Monday for further discussions. Depending on that, we will submit the 2007 uso de suelo to INVU and see what they say. If they do not accept it, the plan is to get their rejection in writing and return to the City at which point we will try to bring pressure on them. The anomaly in question--"right of way" or "roadway" designation is outside our property; the area is not now nor never has been either a roadway or a right of way since squatters have built all types of houses some of which appear to have been there for 30+ years.....
Environmental: The agreement with SETENA did not arrive as we were led to believe. Next week is another week..

» RESIDENCIAS LOS JARDINES
AyA: Dug up our disconnected water line and discovered exactly what I had told them; that Kirebe had failed to reconnect it on one of their may digs.... Kirebe denied any responsibility...Incredible.

Garden Waste: It's difficult to comprehend the amount of garden waste we are having to cart away. This has been going on now for about a month.. In the past, a load every 3 wks. was normal; this past month, it's been about 2 loads a week...... we are trimming the perimeter hedge, and many other trees, bushes, etc. and we just can't recycle most of it.

Rentals: 124--Immediately; 121 beginning June 25 ------we've had few renters looking this week.

For Sale: 109 only. We've had a number of viewings and one low ball offer which didn't go very far. The would be purchaser really like the house and Los Jardines but just didn't have the budget.

107 is scheduled to close July 1. In this case, the purchaser is bringing money from Europe. We'll see how many roadblocks banks put in his pathway. Now he has to make certain disclosures to Ireland before the funds there will be released to CR.
Units for Sale/Lease: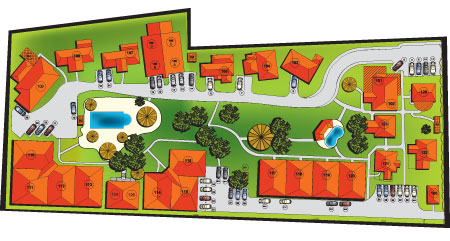 Unit #

109

--

For

Sale $214,900 - FURNISHED (Leased until July 11, 2009 - $1,550 pr month)

Total Area (Sq Ft):
1506
Total area (Sq M):
140
Bedrooms:
2
Bathrooms:
2
Floor(s):
1 Story
Type:
Detached
Furnished:
Yes
This single story home (1506 sf. + parking
for
one car) is detached, has two bedrooms, two bathrooms, home office, living room wall / entertainment center along with a built in office and a semi-private terrace. In addition, it has a vaulted ceiling in the "great" room and two skylights. The covered entrance way is suitable
for
two chairs located next to a covered garden area. Once through the impressive front door, you enter the "great room" which houses the kitchen, dining room, office and living room. Upon entering, there is a built in wooden hutch surfaced with granite—it matches all the built-in furniture in the great room. There is a clothes washer and dryer off the 2nd bedroom. It may also be used
for
storage.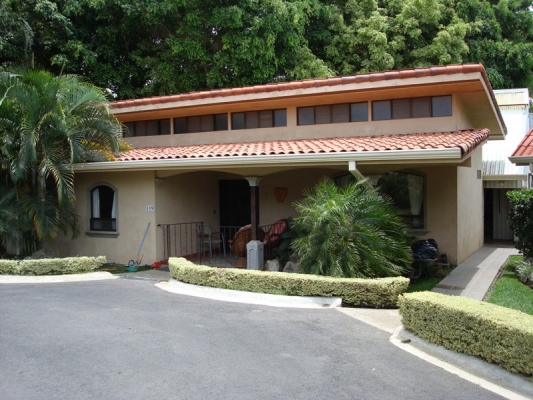 Read More
Unit

124

-

For

Rent

at $950 pr Month FURNISHED

Total Area (Sq Ft): 662
Total area (Sq M): 61
Bedrooms: 1
Bathrooms:1
Floor(s): 2nd Floor
Type: Semi-Detached
Furnished: Yes
This 662 sf, + covered parking
for
one car, is a one bedroom home on the 2nd floor overlooking the large pool. It is ideal
for
a single person or couple.
Unit

#

121

- For Rent - $1,650 - (Available June 25, 2009)

Total Area (Sq Ft):1423
Total Area (Sq M):131
Bedrooms:2
Bathrooms:2.5
Floor(s):2 Story
Type:Detached
Furnished:Yes

This two story, detached 1,423 sf home + parking for one car has two bedrooms, 2 ½ bathrooms and a 2nd. floor covered terrace.

The open railed wrought iron cement stair case leads to the 2nd. level where the master bedroom with en-suite master bathroom as well as 2nd. bedroom and en-suite bathroom are located. Also accessed from the 2nd. floor hallway is the covered terrace.

This is a very nicely furnished home with a good floor plan for those wanting two floors.



» NEWS FROM COSTA RICA
June 06, 2009
Borges scores winner for Costa Rica
BACOLET, Tobago (AP) — Celso Borges scored twice, including the winner in the 68th minute, to lift Costa Rica to a 3-2 victory over Trinidad and Tobago in a World Cup qualifier on Saturday.

Read
June 06, 2009
PLN To Elect Leader on Sunday
(Inside Costa Rica) This weekend is the big weekend for the Partido Liberacion Nacional (PLN) as it chooses its leader for the 2010 presidential elections, between Laura Chinchilla, Johnny Araya, who have been alternating leads in the polls and way down the list, Fernando Berrocal.

Read
June 06, 2009
Escazú Tolls Begin Tomorrow
(Inside Costa Rica) Get ready to fork over ¢310 colones starting tomorrow for the right to drive on the reconstructed autopista Fernando Prospero from San Jose to Santa Ana.

Read
June 02, 2009
Adverse Habitat Awaits U.S. in Costa Rica
(The New York Times) Tropical flora, exotic fauna and fake grass will greet the United States when it plays Costa Rica on Wednesday in a World Cup qualifying match at Estadio Ricardo Saprissa Aymá in San José.

Read
» OUR LIVES
Weather:
Little rain this week. Plants and grass are happy...
Cheap Booze:
I was shown a small liquor store in the middle of a nondescript area west of Belen surrounded by everything which is nothing that has really great prices. I did a price comparison on a few selected items: Crown Royal--9,500 vs AutoMercado (AM)--17,245; Jose Cuervo Tequila--6,900 vs. AM 12,070; Johnny Walker Gold--21,300 vs. AM 41,600; Johnny Walker Black--15,500 vs. AM 21,000; Chivas Regal (18 yr old)--25,000 vs. AM 38,000; Flor de Cana (18 yr. old) 17,500 vs. normal price AM 24,800. They don't carry gin....
Driving:
The driving seems to get worse here. I had to venture into San Jose and on three occasions on this trip, experienced a driver turning from the right lane across the left lane to make a turn....never a thought or look given in any of the three cases. The new autopista is being used as an German autoban.....at 60 MPH, I'm passed by most other cars....and all this when there are numerous locations where lanes are taken out of service due to finalizing construction--light standards, lining, safety railings, etc.
Brian, Lita, Hugo, irreverent Vicka, the pigeon toed parrot, and the newbies — Chico and Chica.
Brian C. Timmons, Newsletter Author
Residencias Los Jardines/Hacienda El Dorado - Developer
E-mail: brian@eldoradocostarica.com

For inquiries about availability of residences at Hacienda El Dorado or Residencias Los Jardines, contact:

Jan Kozak, Marketing Manager
Hacienda El Dorado
Rio Oro, Santa Ana
Costa Rica
Web: www.eldoradocostarica.com
E-mail: info@eldoradocostarica.com
MSN: jan.kozak.jr@hotmail.com
Skype: jan.kozak.jr
Tel (US) (+1) 647-477-5825
Cell: (+506) 8345 8018