AyA Waiting; 3 Sales at RLJ; Kindness!!


» NOTES
When I started Residencias Los Jardines, I started writing a weekly news letter —determined to tell all the good, bad, and the ugly. I knew some readers would be interested in the construction process. I expected others might be interested in the lifestyle of two people who had decided to live outside the box. For others, the adventures of lita, the parrot and the cat took on an entertainment saga all its own.

Residencias Los Jardines is finished. We periodically have resales and rental availability. Some readers may be interested in this information.

More and more, the content will be dominated by events of our new project, "El Dorado" for short. While the future is always uncertain, I again aim to tell it like it happens —the good, the bad, and the ugly, and that is what follows.

In an effort to make the format more interesting and visually appealing and to field inquiries re. El Dorado, the news letter is now being distributed by Jan Kozak, Marketing Manager, Hacienda El Dorado. I will remain the author.

Brian C. Timmons, Author
Residencias Los Jardines/Hacienda El Dorado - Developer
E-mail: brian@eldoradocostarica.com

»MARKETING & SALES
No sales--Buyers are few and far between and all projects that we're aware of.
» CONSTRUCTION LOG
Water: It seems that the AyA letter saying they would give us a 4" water service and it would be metered at that point may not be acceptable to INVU--the condo granting review board. These two organizations don't sing from the same song book--surprise, surprise. We are attempting to resolve the concerns or differences and get the wording right.
Principal Consultant:
IF we were cynical we might believe the principal consultant is purposely delaying the completion of the permitting process such that he can keep the monthly payment rolling in. We are having a meeting with him on Monday. We're frustrated, very frustrated. He seems to be incommunicado for us much of the time and so many things are delayed for a week or more... It's difficult to change horses in mid stream. We have a meeting set with him for Monday.
» RESIDENCIAS LOS JARDINES
Discouraging Event: We had a tenant leave without notice--he bought a house. He had contracted for a year and within two months left without notice. We knew he was buying a house but we didn't know when he would be leaving. We're keeping his deposits but it wasn't an act which endeared me to him.
Vandalism: The first in 5 years occurred the other night. Some one wantonly ripped off the intercom near one of the gates. It is probably not useful for anyone else; we'll have to have it replaced and weld a guard over it.
Rainwater Drainage: We got a chance to test out the drainage system this week. The gardeners found out that they had not cleaned or cleared some of the areas that they so vehemently claimed to have fixed. We had to replace a couple pumps for reasons which are not clear to me. At time of writing, all systems seem to be working as they should.
Rentals:
Unit 112--immediate; Unit 124--May 25

For Sale:
We have three houses--107, 108, and 120-- in various stages of closing. That leaves us with only 109 available. It's a great unit and shows very well.
Units for Sale/Lease: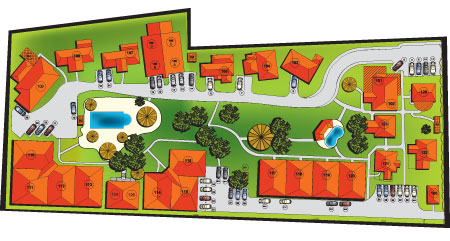 Unit #

109

--

For

Sale $214,900 - FURNISHED (Leased until August 1, 2009 - $1,550 pr month)

Total Area (Sq Ft):
1506
Total area (Sq M):
140
Bedrooms:
2
Bathrooms:
2
Floor(s):
1 Story
Type:
Detached
Furnished:
Yes
This single story home (1506 sf. + parking
for
one car) is detached, has two bedrooms, two bathrooms, home office, living room wall / entertainment center along with a built in office and a semi-private terrace. In addition, it has a vaulted ceiling in the "great" room and two skylights. The covered entrance way is suitable
for
two chairs located next to a covered garden area. Once through the impressive front door, you enter the "great room" which houses the kitchen, dining room, office and living room. Upon entering, there is a built in wooden hutch surfaced with granite—it matches all the built-in furniture in the great room. There is a clothes washer and dryer off the 2nd bedroom. It may also be used
for
storage.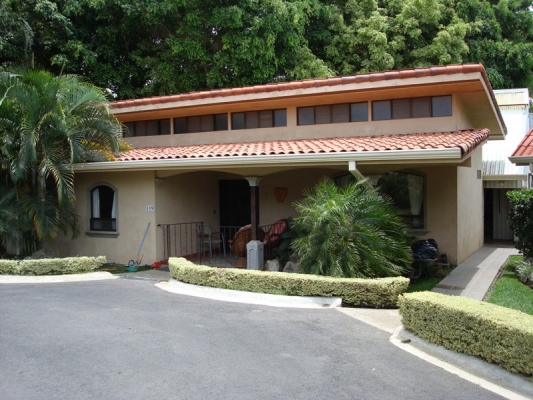 Read More
Unit

124

-

For

Rent

at $950 pr Month FURNISHED (Available May 25, 2009)

Total Area (Sq Ft): 662
Total area (Sq M): 61
Bedrooms: 1
Bathrooms:1
Floor(s): 2nd Floor
Type: Semi-Detached
Furnished: Yes
This 662 sf, + covered parking
for
one car, is a one bedroom home on the 2nd floor overlooking the large pool. It is ideal
for
a single person or couple.
Unit #
112

- Available for Rent at $1,450 pr Month FURNISHED

Total Area (Sq Ft):1290
Total area (Sq M):120
Bedrooms:2
Bathrooms:2
Floor(s):1 Story
Type:Attached
Furnished:Yes

This 1,290 sf single floor home includes a 300 sf front terrace plus parking for one car. It is attached on two sides by a 6 inch cement demising (common) wall, which prevents sound transfer.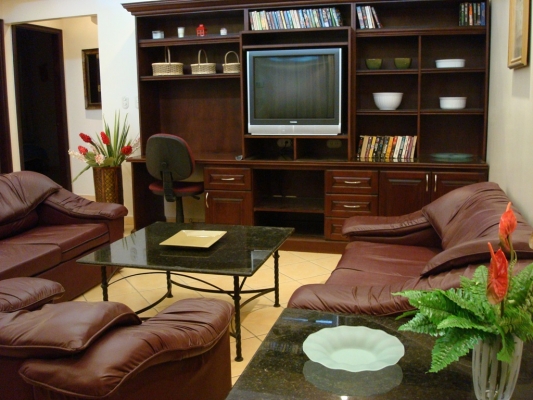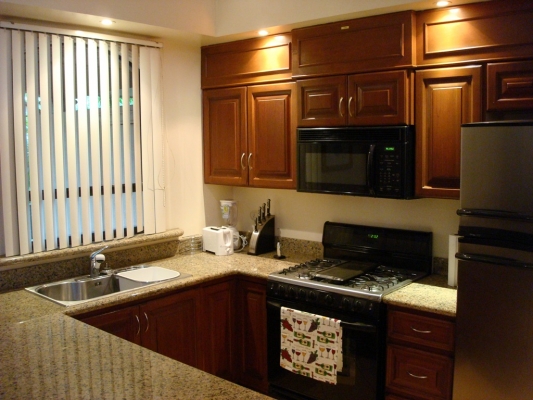 Read More


» NEWS FROM COSTA RICA
May 10, 2009
Costa Rica rainy season dries up business
(The Tico Times) Germán Viales grumbled something under his breath Tuesday afternoon as thunder warned him of the rain that would soon dampen his table of lottery tickets if he didn't move.

Read
May 10, 2009
US Bans Shrimp From Costa Rica To Protect Sea Turtles
(Inside Costa Rica) The US Department of State's Bureau of Oceans, Environment, and Science imposed a trade embargo on all Costa Rican shrimp exports to the US, effective as of May 1. The embargo is due to Costa Rica's failure to enforce its laws that require commercial shrimp fishers to protect sea turtles from capture and death in trawl nets by using Turtle Excluder Devices (TEDs).

Read
May 10, 2009
Flu virus surfaces in Costa Rica with no identified ties to Mexico
(The Tico Times) Two more likely cases of the Influenza A (H1N1) virus have been identified in Costa Rica, bringing the total probable cases to four.

Read
» OUR LIVES
Weather: The rainy season started last Sunday. We've had showers five of the past 7 days. No more dust and the plants are becoming happier.
Tough Times: I happened on a former employee of ours. He's a good tradesman and a nice man. He was looking for work at Kirebe next door. He has been out of work for three weeks now, can't pay his rent and doesn't have much food. My heart went out to him. Fortunately I was able to give him a phone number of someone who may be hiring.
An Act of Kindness:
We had made arrangements to go to a nice Italian restaurant on Saturday with another couple on site.
We knew this place was a bit of a dressy place for CR. An hour before we were to leave Erika and her sister Maria came over with makeup kit in hand. They had realized that Lita could no longer apply makeup because of her eyesight--in fact it's been about a year now that she has not used eye shadow, eye liner, and all those things women use--lipstick was all she was able to manage. She was so happy that she could now look like the others. When I thought about what they had done for her and how they had made her feel, it brought tears to my eyes. Those acts come from the heart; not the pocket book.
New Highway:
The autopista between Santa Ana and San Jose is now virtually done. It lacks only light standards and median landscaping. We drove it last night. Wow!!!! what a beautiful road--smooth with a substantial asphalt base which should last, lines and reflectors, guard rails, pull outs for the buses (now to get them to use them), overpasses for pedestrians, merge and exit lanes, etc. This definitely sets a new standard for CR and rivals anything in N. Am.
A Blast at the Time Out Tavern
: This was suppose to go into last week's letter but it got missed. Most people who are interested probably know by now that around 2pm last Saturday, an explosion outside the Time Out caused extensive damage to their kitchen and the rest of the building. No one was hurt. They say they will rebuild; my guess is that it'll be at least a month before they are back in business. We were there Friday night for a great meal. Now we are going to Keante's in Belen--a good Tico restaurant with reasonably priced food, good service. Lita and I each have our favorites.
Brian, Lita, Hugo, irreverent Vicka, the pigeon toed parrot, and the newbies — Chico and Chica.
Brian C. Timmons, Newsletter Author
Residencias Los Jardines/Hacienda El Dorado - Developer
E-mail: brian@eldoradocostarica.com

For inquiries about availability of residences at Hacienda El Dorado or Residencias Los Jardines, contact:

Jan Kozak, Marketing Manager
Hacienda El Dorado
Rio Oro, Santa Ana
Costa Rica
Web: www.eldoradocostarica.com
E-mail: info@eldoradocostarica.com
MSN: jan.kozak.jr@hotmail.com
Skype: jan.kozak.jr
Tel (US) (+1) 647-477-5825
Cell: (+506) 8345 8018