WATER !! A Scam & Changes


» NOTES
When I started Residencias Los Jardines, I started writing a weekly news letter —determined to tell all the good, bad, and the ugly. I knew some readers would be interested in the construction process. I expected others might be interested in the lifestyle of two people who had decided to live outside the box. For others, the adventures of lita, the parrot and the cat took on an entertainment saga all its own.

Residencias Los Jardines is finished. We periodically have resales and rental availability. Some readers may be interested in this information.

More and more, the content will be dominated by events of our new project, "El Dorado" for short. While the future is always uncertain, I again aim to tell it like it happens —the good, the bad, and the ugly, and that is what follows.

In an effort to make the format more interesting and visually appealing and to field inquiries re. El Dorado, the news letter is now being distributed by Jan Kozak, Marketing Manager, Hacienda El Dorado. I will remain the author.

Brian C. Timmons, Author
Residencias Los Jardines/Hacienda El Dorado - Developer
E-mail: brian@eldoradocostarica.com

»MARKETING & SALES
Advertising: We will be changing our advertising to included Residencias Los Jardines AND Hacienda El Dorado. This will cover off people looking to purchase / lease now and for those with a longer time horizon.
» CONSTRUCTION LOG
Site Plan Drawings: We are missing only one minor letter which we will have after Semana Santa.
Water: As of Friday, we have the letter signed by AyA. This is supposed to be sufficient confirmation of water availability that INVU and other government agencies will accept. It took a rather forceful letter from the consultant to ????? in AyA to get the signature....it seems that he was just toooooooooooooo busy....

Timing: While there are still many unknowns and issues beyond our control, we have reason to believe that the site plan could be approved in June.

Landscaping: I've secured and will take possession of 1,500 fence type bamboo around the 20 of April. when the rains are more established. These will be planted along fence lines to screen out ugly neighbors. I'm also taking possession of 150 large style bamboo which we'll plant along the property lines near the stream where we are no suppose to put a fence--large "ammarilla" bamboo is more effective once is is grown in....a couple years.... In addition, we will be seeding with native grasses, areas where we have graded. This will reduce erosion during this rainy season. Finally, we will be creating some berms in certain areas to reduce erosion as well. All this work will be done over the next month.
» RESIDENCIAS LOS JARDINES
Accounting & Reporting System: I'm not sure the glitches have been eliminated yet.

A Scam: Last week I said that 116 had been leased. Yes, the RE agent placed a $500 deposit of her own money into our account pending the transfer on Monday of funds from her client in France. On Monday she comes to me with two faxed pages saying "I think we have a problem." As soon as I saw the heading, I knew "she" did.....the faxes were from Bank of Africa--Ivory Coast. The content was that the agent was to wire $750 to an account in order to receive $10,200. This is a well document and as of lately, a frequent scam that more experienced agents know about. I explained that while I was sorry for this situation and while I admired her entrepreneurism, I had turned down a client and now my owner was going to be without a client. I offered to contact the other agent to see if his client had committed to another unit and if he hadn't and if he signed with us, that I would return her funds. I guess she prayed to the right god because the other client (also from France but in CR) signed the next day and I was able to return the $500 deposit to the scammed agent. It all worked out--all parties are happy.

Preparation for Rain: The rain is coming...We had all the drains and the collection centers, cleaned and checked the pumps. One is not working so we'll have that looked into.

Texas Hold'em: A slightly smaller group but still viable--some of the regulars have returned to ?????. The big winner was a sometimes winner before....

Rentals: The owner of one of our units felt he could do a better job managing the unit that we could. So he did. Over the past 6 mo., he encountered many, many problems. He asked us to take over the management. He wants to make some changes (eg. remove the broadloom which we counselled him to be a big mistake), and he'll have to make some furnishing changes. I have a tenant for it and when the changes are completed, it can be rented immediately at his asking price. However, it may be that some glitches are developing in the management agreement. If that is the case, I'll just unwind everything, write off my time, and decline the manage the unit. We'll see.

We will have Unit 113 on the market mid month; the floor plan is similar to 116. It is being furnished now.

Sales: We had an offer on 107. It wasn't a strong offer and was turned down by the owner. As I've said, no owner is "desperate"; the asking price is reasonable (in my opinion) -- all units are leased and giving a decent return on their investment.
Units for Sale/Lease: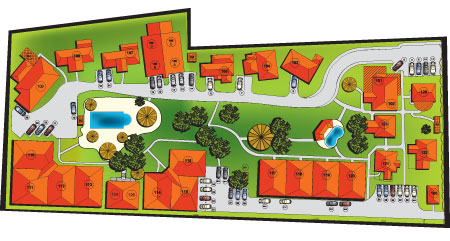 Unit #107 - For Sale/ REDUCED PRICE $239,000 / Leased for $1,650 mo. to Jan. 2010.--OWNER FINANCING AVAILABLE
Total Area (Sq Ft): 1716
Total area (Sq M): 158
Bedrooms: 2
Bathrooms: 2.5
Floor(s): 2 Story
Type: Detached
Furnished: Yes

This 1,716 sf. (plus parking for one car) two story, detached house, with three terraces, two bedrooms (one on each floor) and upstairs master suite is a beautiful home. This home consists of two VERY large bedrooms (one on each floor) with en-suite bathrooms and a powder room, each with large closets with extensive built-ins for personal organization. The vaulted living room and ground floor bedroom ceilings as well as the master bedroom on the 2nd floor, provide a feeling of grandeur while allowing the warmer air to rise and exit through the ceiling ventilating system. There are three TVs (one in each bedroom and one in the living room.) This is a beautiful home. There is a rough-in for a dishwasher in the kitchen area.
Read More
Unit #120 - For Sale--$185K /Leased at $1,450mo.
Total Area (Sq Ft):
1312
Total area (Sq M):
122
Bedrooms:
2
Bathrooms:
2
Floor(s):
1 Story
Type:
Semi-Detached
Furnished:
Yes
This 1,312 sf single floor home includes a 300 sf front terrace plus parking for one car. It is an end unit and therefore attached on only one side providing ample lighting and views. The 6 inch cement demising (common) wall prevents sound transfer. This is a very nicely furnished and accented home.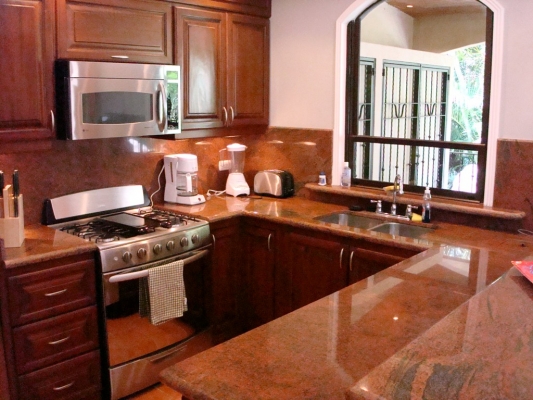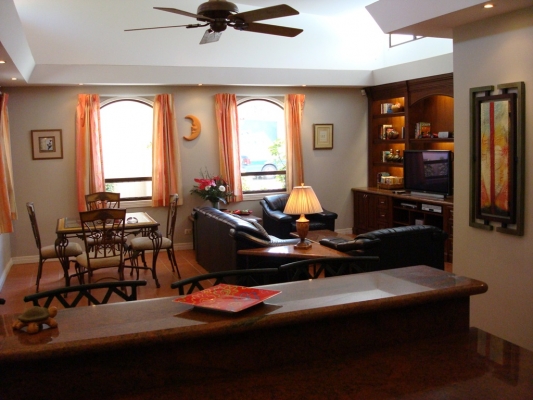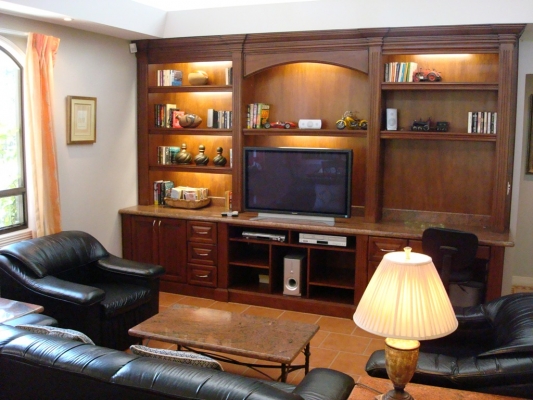 Read More
Unit #108 --For Sale-$245,000; Leased at $1,600 mo. to March '10
Total Area (Sq Ft):
1716
Total area (Sq M):
158
Bedrooms:
2
Bathrooms:
2.5
Floor(s):
2 Story
Type:
Detached
Furnished:
Yes
This 1,716 sf. (plus parking space for one car) two storey, detached house, with two terraces, two bedrooms (one on each floor) and an upstairs master suite is a beautiful home.
This home consists of two VERY large bedrooms with en-suite bathrooms (one on each floor) and a powder room each with closets with extensive built-ins for personal organization. The vaulted living room and ground floor bedroom ceilings as well as the master bedroom on the 2nd floor provide a feeling of grandeur while allowing the warmer air to rise and exit through the ceiling ventilating system.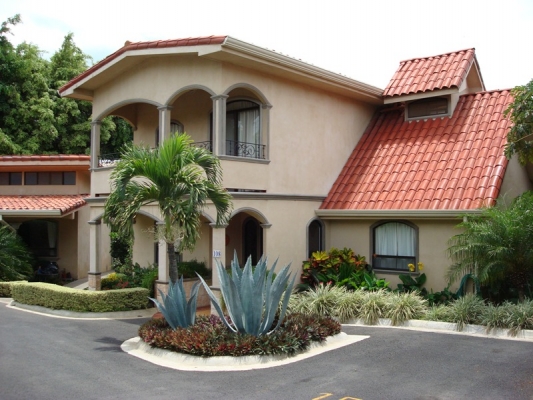 Read More
Unit #

109

--

For

Sale $214,900 - FURNISHED (Leased until August 1, 2009 - $1,550 pr month)

Total Area (Sq Ft):
1506
Total area (Sq M):
140
Bedrooms:
2
Bathrooms:
2
Floor(s):
1 Story
Type:
Detached
Furnished:
Yes
This single story home (1506 sf. + parking
for
one car) is detached, has two bedrooms, two bathrooms, home office, living room wall / entertainment center along with a built in office and a semi-private terrace. In addition, it has a vaulted ceiling in the "great" room and two skylights. The covered entrance way is suitable
for
two chairs located next to a covered garden area. Once through the impressive front door, you enter the "great room" which houses the kitchen, dining room, office and living room. Upon entering, there is a built in wooden hutch surfaced with granite—it matches all the built-in furniture in the great room. There is a clothes washer and dryer off the 2nd bedroom. It may also be used
for
storage.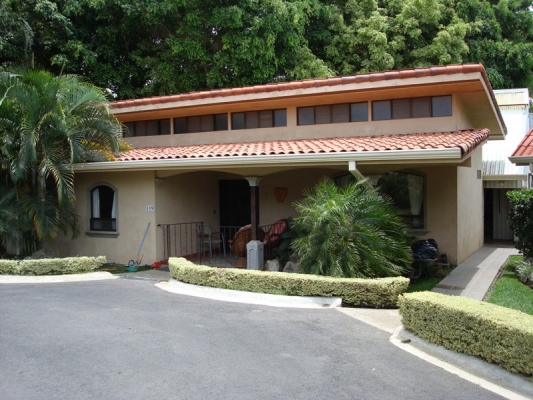 Read More

» NEWS FROM COSTA RICA
April 03, 2009
'New Day' for U.S. and Latin America
(The Tico Times) U.S. Vice President Joe Biden made few promises, but did seem to win some hearts and minds, during a much-watched, two-stop trip to Latin America that concluded in San José, March 30.

Read
April 03, 2009
Gisele Bündchen, Tom Brady Enjoy Beach Time & BBQ Before Wedding
(People) Tom Brady and Gisele Bündchen continued their low-key Costa Rican weekend wedding celebration by hitting the beach and enjoying a barbecue before their big day Saturday.

Read
April 03, 2009
Costa Rica makes OECD's tax haven blacklist
(The Tico Times) The Organization for Economic Co-operation and Development (OECD) cited Costa Rica on Thursday among nations not cooperating with international tax norms, in a report requested by the Group of 20 developed and developing countries meeting this week in London.

Read
April 03, 2009
Costa Rica Q1 inflation slows to 0.83 percent
(The Tico Times) The increasing price of basic goods nearly ground to a halt in March, rounding off Costa Rica's first-quarter inflation at just 0.83 percent, less than half the 2.25 percent price rise of the first three months of 2008.

Read
April 03, 2009
Semana Santa Exodus Begins
(Inside Costa Rica) Semana Santa or Holy Week is a religious affair for many Costa Ricans, attending church and taking part in processions and religious activities. But, for many more Costa Ricans it is a time off work to head for the beaches, mountains and resorts around the country.

Read
April 03, 2009
Victims Suffer Ordeal To Recover Their Stolen Vehicles From Judicial Lot
(Inside Costa Rica) Victims of vehicle theft say they feel victimized all over again when they try to recover their vehicles from the authorities, that are held at the Depósito Judicial de Vehículos en San Joaquín de Flores, in Heredia.

Read
April 03, 2009
Thursday, Friday and Saturday Legal Holidays
(Inside Costa Rica) Although Semana Santa officially begins today, the only legal holidays are Good Thursday, Good Friday and this year Saturday, April 11, in celebration of Costa Rica's national hero, Juan Santamaría.

Read
March 28, 2009
Vice President Joe Biden meets with leaders from South and Central America
(The Miami Herald) SAN JOSE, Costa Rica -- In what some analysts see as a nod by the Barack Obama administration to this small nation's tradition of stable democracy and moderate politics, Vice President Joe Biden is scheduled to meet with Central American leaders at a two-day gathering here that begins Sunday.

Read
» OUR LIVES
Weather: March 30 saw the winds change from the E- NE to S-SW--this heralds the changing season. April is a swing month and true to form, that is what is happening. This week it has been mainly dead calm, a few mixed, mild breezes, and several rainfalls. t's a beautiful time of year.
Trip Epilogue: The new fuel pump arrived from the States on Wednesday -- 8 days after ordering it on line through E-Bay, and was installed on Friday. So far, the car runs like new..... However, I've been there before and ended up stranded--twice. We'll see......
Pericos: On Sunday night we entertained resident friends returning to Canada and a purchaser from Canada at El Dorado. Lita brought out the two pericos--Chico and Chica--for show, tell, and play. One flew away and was not interested in being coaxed back. Monday a search party was sent on and he was recovered by a gardener...their wings have now been clipped and I can stop taking my heart medication.
Changes:
The weather, resident-owner friends leave, tenants arrive.... It's always hard to say goodbye to friends and playmates even though you know they will return in 2 mo., 6 mo. or ?? New tenants arrive and the education process begins anew. The weather is now from dry / windy / dusty to showers and clear skies / calm / green and beautiful. Road conditions change daily on the Autopista, eg. a significant chunk is out of service for the next 4 days so alternate routes are required to head east. Since this is the beginning of Semana Santa, there isn't likely to be a lot of traffic.
A purchaser from Toronto was in town this past week. He likes to drive and explore and ended up going on the trip we wanted to and tried to go on when we had so many problems. I was disappointed to see over hyped ocean view land, the heat, and the number of stalled projects. He was kind enough to bring a sack a mail me which had tax info. and to returned for delivery the tax data for the return. The process brought back to mind the amount of time I spent, when in Canada, reporting to various government agencies...... Now our reporting is done by the accountant; I don't spent much time at it at all and am much, much happier.
Construction:
There are still new commercial project coming on line and others continuing. everal huge new buildings suitable for assembly, manufacturing, or ??? are being build in the Tax Free Zones, a warehousing / distribution center in Santa Ana is advancing, two new projects are starting near it, surveying being done on another site....and the number of dump trucks hauling fill to the new Caldera roadway is incredible.....
A major purchaser at El Dorado stopped buy after returning from his beach condo. He continues to have problems with the property management company......he simply can see where all the basis for many of his monthly charges........and he continues to believe the unit may be rented and he isn't seeing any of the revenue. Unfortunately, this is probably the norm.........non-resident purchasers are frequently subjected to unpleasant surprises when asking someone else to look after it. I see this happening a lot here; purchasers not thinking about this aspect. They are focusing on just the price. and looking for an inexpensive condo fee....while I don't follow up, I'd be surprised if they were happy with that aspect of their purchase in a couple years.

Brian, Lita, Hugo, irreverent Vicka, the pigeon toed parrot, and the newbies — Chico and Chica.
Brian C. Timmons, Newsletter Author
Residencias Los Jardines/Hacienda El Dorado - Developer
E-mail: brian@eldoradocostarica.com

For inquiries about availability of residences at Hacienda El Dorado or Residencias Los Jardines, contact:

Jan Kozak, Marketing Manager
Hacienda El Dorado
Rio Oro, Santa Ana
Costa Rica
Web: www.eldoradocostarica.com
E-mail: info@eldoradocostarica.com
MSN: jan.kozak.jr@hotmail.com
Skype: jan.kozak.jr
Tel (US) (+1) 647-477-5825
Cell: (+506) 8345 8018