WATER & Trip from HELL!!!!


» NOTES
When I started Residencias Los Jardines, I started writing a weekly news letter —determined to tell all the good, bad, and the ugly. I knew some readers would be interested in the construction process. I expected others might be interested in the lifestyle of two people who had decided to live outside the box. For others, the adventures of lita, the parrot and the cat took on an entertainment saga all its own.

Residencias Los Jardines is finished. We periodically have resales and rental availability. Some readers may be interested in this information.

More and more, the content will be dominated by events of our new project, "El Dorado" for short. While the future is always uncertain, I again aim to tell it like it happens —the good, the bad, and the ugly, and that is what follows.

In an effort to make the format more interesting and visually appealing and to field inquiries re. El Dorado, the news letter is now being distributed by Jan Kozak, Marketing Manager, Hacienda El Dorado. I will remain the author.

Brian C. Timmons, Author
Residencias Los Jardines/Hacienda El Dorado - Developer
E-mail: brian@eldoradocostarica.com

»MARKETING & SALES
Site Plan Drawings: All plans have now been submitted to the Colegio of Architects and Engineers.
Water: The meeting with AyA went well. They offered to form, in effect, a partnership to expedite the application through the the various government bodies. They will give us the letter we need for our project and the will proceed to work out the legal document. While we haven't seen the final document and while the devil may exist in the details, we have no information at this point in time, that we will not be able to live with the agreement. AyA is under pressure (as much as any monopoly is under pressure) to solve the water problems in the area and seem anxious to deal with it.
» CONSTRUCTION LOG
Site Plan Drawings: We reviewed the drawings, found a couple small items easily corrigible. All drawings were to be reproduced, bundled and submitted on Friday or Monday. We authorized the completion of the black water treatment plant drawings which will be required by the Ministry of Health.
Water: The consultant has a meeting on Tuesday, March 17 with the person who we are told has the decision making capability. AyA is under public pressure to supply better quality / quantity / reliability of water to our area. We offer them the solution. We are told that the AyA representative is aware of our offer and is favorably disposed to it. What we hope to happen in the meeting is that we will present our offer, AyA will accept in principle and give direction to someone to draft the agreement. While the devil could hide in the details of that agreement, our consultants believe we will be able to live with the agreement. We'll see.... This is CR and few things unfold as one expects.
» RESIDENCIAS LOS JARDINES
Accounting & Reporting System: Nothing has been done since it was downloaded on to our computers. The accountant took a few days off so......

Rentals: A number of viewings of 116 but most lookers want something immediately...not April 1.

Sales: We continue to have viewers but no offers. The units are leased bringing the owners a nice return so they are not inclined to become desperate sellers. Reasonable, yes, desperate, no.
Units for Sale/Lease: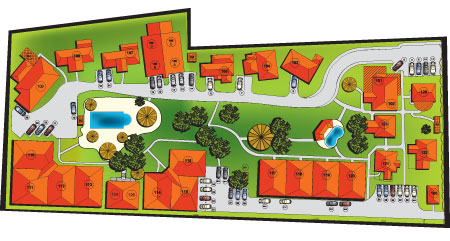 Unit #107 - For Sale/ REDUCED PRICE $239,000 / Leased for $1,650 mo. to Jan. 2010.--OWNER FINANCING AVAILABLE
Total Area (Sq Ft): 1716
Total area (Sq M): 158
Bedrooms: 2
Bathrooms: 2.5
Floor(s): 2 Story
Type: Detached
Furnished: Yes

This 1,716 sf. (plus parking for one car) two story, detached house, with three terraces, two bedrooms (one on each floor) and upstairs master suite is a beautiful home. This home consists of two VERY large bedrooms (one on each floor) with en-suite bathrooms and a powder room, each with large closets with extensive built-ins for personal organization. The vaulted living room and ground floor bedroom ceilings as well as the master bedroom on the 2nd floor, provide a feeling of grandeur while allowing the warmer air to rise and exit through the ceiling ventilating system. There are three TVs (one in each bedroom and one in the living room.) This is a beautiful home. There is a rough-in for a dishwasher in the kitchen area.
Read More
Unit #120 - For Sale--$185K /Leased at $1,450mo.
Total Area (Sq Ft):
1312
Total area (Sq M):
122
Bedrooms:
2
Bathrooms:
2
Floor(s):
1 Story
Type:
Semi-Detached
Furnished:
Yes
This 1,312 sf single floor home includes a 300 sf front terrace plus parking for one car. It is an end unit and therefore attached on only one side providing ample lighting and views. The 6 inch cement demising (common) wall prevents sound transfer. This is a very nicely furnished and accented home.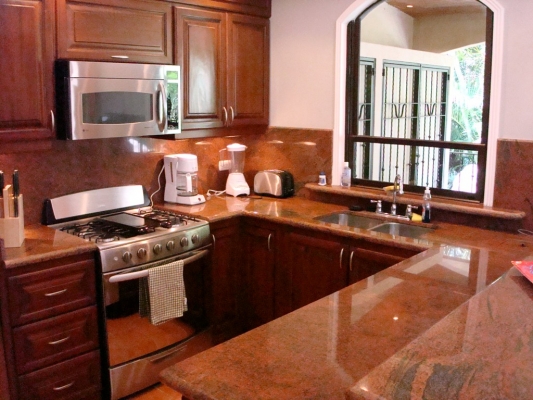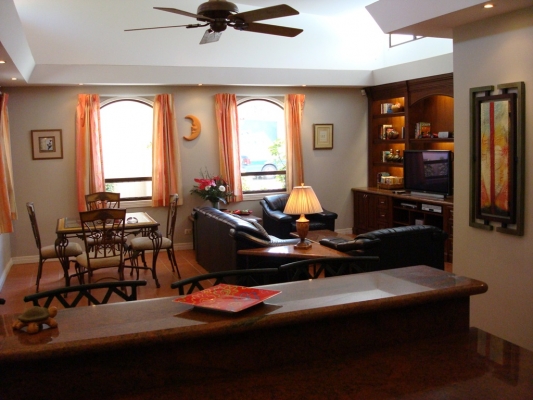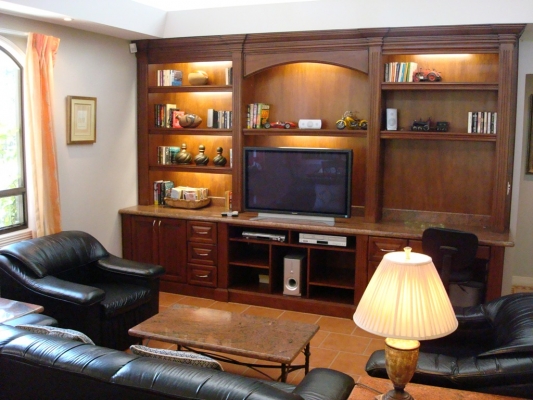 Read More
Unit #108 --For Sale-$245,000; Leased at $1,600 mo. to March '10
Total Area (Sq Ft):
1716
Total area (Sq M):
158
Bedrooms:
2
Bathrooms:
2.5
Floor(s):
2 Story
Type:
Detached
Furnished:
Yes
This 1,716 sf. (plus parking space for one car) two storey, detached house, with two terraces, two bedrooms (one on each floor) and an upstairs master suite is a beautiful home.
This home consists of two VERY large bedrooms with en-suite bathrooms (one on each floor) and a powder room each with closets with extensive built-ins for personal organization. The vaulted living room and ground floor bedroom ceilings as well as the master bedroom on the 2nd floor provide a feeling of grandeur while allowing the warmer air to rise and exit through the ceiling ventilating system.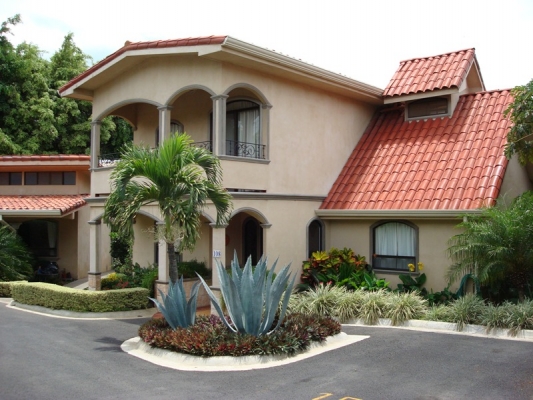 Read More
Unit #

109

--

For

Sale $214,900 - FURNISHED (Leased until August 1, 2009 - $1,550 pr month)

Total Area (Sq Ft):
1506
Total area (Sq M):
140
Bedrooms:
2
Bathrooms:
2
Floor(s):
1 Story
Type:
Detached
Furnished:
Yes
This single story home (1506 sf. + parking
for
one car) is detached, has two bedrooms, two bathrooms, home office, living room wall / entertainment center along with a built in office and a semi-private terrace. In addition, it has a vaulted ceiling in the "great" room and two skylights. The covered entrance way is suitable
for
two chairs located next to a covered garden area. Once through the impressive front door, you enter the "great room" which houses the kitchen, dining room, office and living room. Upon entering, there is a built in wooden hutch surfaced with granite—it matches all the built-in furniture in the great room. There is a clothes washer and dryer off the 2nd bedroom. It may also be used
for
storage.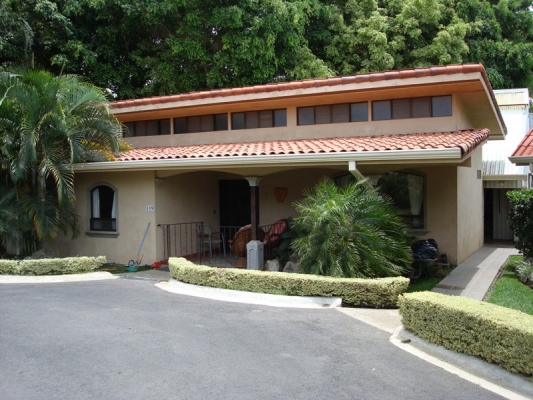 Read More

» NEWS FROM COSTA RICA
March 18, 2009
Researchers spot giant sharks in Costa Rica
(The Tico Times) Researchers with the ocean conservation organization PRETOMA were pulling in their fishing line when they realized they had caught a little more than they had bargained for: what is believed to be a bull shark measuring approximately four meters (13 feet) in length.

Read
March 18, 2009
Pfizer expands in Costa Rica
While Pfizer Inc. is downsizing its worldwide work force, the company is expanding its presence in Costa Rica.

Read
March 18, 2009
Another reason to visit Costa Rica - American tourists flock to Costa Rica for medical treatments.
SAN JOSE, Costa Rica — Sitting in sweatpants and a sweatshirt in a room overlooking the city, 57-year-old Marsha Ervin seems relaxed, refreshed — perhaps even like a new woman. Her trip to Costa Rica has meant a break from work at her Caring Comfort clinic in Washougal, Wash., where she assists elderly people with dementia and other age-related diseases.

Read
» OUR LIVES
Weather: Winds and weather have been normal. Beautiful.
"Borracho" boy: This story seemed to resonate with a number of readers who had been there themselves. I've behaved myself since.

The Trip From Hell!!!!: Lita had been asking for a trip for several weeks. It was her birthday and our anniversary so we took off. I've been in CR long enough to know that there's no use detailing plans because usually something will intervene and you've just wasted time. We had a "general idea"-- go to Jaco, head south along the coastal roadway to Dominical area and return via San Isidro...... We'd be gone 3-4 nights. We took the back road from Puriscal to Orotina as we've never been on it before. Paved all the way but the windest road I've ever been on....I won't be taking it again. Lita got motion sick. We started experiencing car problem abut 20 mi. outside Jaco. We limped in and went to our favorite hotel--Vista Pacifico--the owners of which we had met before and who lived just three blocks from us in Toronto. Great hotel, very nicely run, and Jan and Greg are really personable. Jan directed me to a car mechanic.....I coughed and sputtered my way there. A clogged fuel filter.....he changes it and -- 15,000 colones parts and labor--I'm happy. Great dinner meal, good night's sleep and a great conversation with Jan, Greg, and one of their friends in the morning. We head out feeling confident the problem had been solved. The road past Quepos is notoriously rough. Work is ongoing and is about half finished. The last half is untouched and really rough. We started having similar problems. We got about 10 kl. from Uvita--a collection of about 30 buildings which warrants a dot and name on the map. We flag down a pick up truck--explain the problem--the Tico waves us into the back, Lita climbs aboard and sits on the week's supply of groceries and I sit on the ice chest --we both hold onto the new refrigerator. He drops us in Uvita--we find a mechanic (the only one)--young kid--explain the problem--he sends me across the street to buy a new fuel filter, and then gets his tools and drives us back to the car. He checks out the problem and sees that the fuel line has been kinked and won't allow fuel to pass. This probably happened when the Jaco mechanic replaced the fuel filter. The Uvita mechanic heads back to his shop, gets a rope, returns, and pulls us into his shop. He drops the tank cleans it, and starts to replace the fuel line from the tank to the filter. In the process, he breaks the nipple at the fuel pump. He tries using Krazy Glue and epoxy--reassembles everything, tries it, it leaks gas all over the place. Obviously we are stuck for the night. We get a hotel. He works more that night and at 10 in the morning, returns....yes it's fixed. He used stronger glue. We got back to his shop, and gas was leaking all over. Obviously the fix was not a fix. They decided they needed to replace the part--it's in San Jose. It's suppose to be put on the bus and delivered here on Monday. (Yea, do I have a lot of confidence in this?) Obviously we are going to be here three more nights......we look for another hotel....the pevious night's hotel had no hot water and in fact, had no water in the morning....The restaurant was great...no pool , no nothing. The mechanic drives us around for 2 1/2 hrs. looking for someplace comfortable enough...internet, AC, pool, restaurant, TV....ordinary wants. Well, not ordinary for this area.....couldn't find one that had all......it's really amazing how ill thought out these places are and many of them, are very ill maintained. We finally, out of desperation, end up at a VERY expensive hotel.....and that's where we are at time of writing...waiting for the part to arrive....at least we are comfortable....we can't afford to eat at this hotel so we'll probably find ourselves trying to steal crackers from the tables at midnight.......I have no confidence that the part will arrive on Monday but if it does, we'll probably return on Tuesday. If not, I don't know what or when we'll get back.

Everyone has been really nice--that's not the problem. Unfortunately, each mechanic created a bigger problem than that which they solved or inherited. Lita has been pretty good, even when riding in the back of the pickup truck--blind as she is and therefore justifiably more prone to anxiety--she's remained a trouper. This has not been a restful holiday....and it isn't over yet ...and given our experiences so far....we're really looking forward to ending this nightmare and returning to Los Jardines. At Los Jardines, we've really become complacent and think that all CR is like Los Jardines..... Future complaints are likely to be met with directions to Uvita...!

Brian, Lita, Hugo, irreverent Vicka, the pigeon toed parrot, and the newbies — Chico and Chica.
Brian C. Timmons, Newsletter Author
Residencias Los Jardines/Hacienda El Dorado - Developer
E-mail: brian@eldoradocostarica.com

For inquiries about availability of residences at Hacienda El Dorado or Residencias Los Jardines, contact:

Jan Kozak, Marketing Manager
Hacienda El Dorado
Rio Oro, Santa Ana
Costa Rica
Web: www.eldoradocostarica.com
E-mail: info@eldoradocostarica.com
MSN: jan.kozak.jr@hotmail.com
Skype: jan.kozak.jr
Tel (US) (+1) 647-477-5825
Cell: (+506) 8345 8018