.......... & Waiting


» NOTES
NEW TELEPHONE NUMBER: +506 8345 8018 - JAN KOZAK, MARKETING MANAGER

When I started Residencias Los Jardines, I started writing a weekly news letter —determined to tell all the good, bad, and the ugly. I knew some readers would be interested in the construction process. I expected others might be interested in the lifestyle of two people who had decided to live outside the box. For others, the adventures of lita, the parrot and the cat took on an entertainment saga all its own.

Residencias Los Jardines is finished. We periodically have resales and rental availability. Some readers may be interested in this information.

More and more, the content will be dominated by events of our new project, "El Dorado" for short. While the future is always uncertain, I again aim to tell it like it happens —the good, the bad, and the ugly, and that is what follows.

In an effort to make the format more interesting and visually appealing and to field inquiries re. El Dorado, the news letter is now being distributed by Jan Kozak, Marketing Manager, Hacienda El Dorado. I will remain the author.

»MARKETING & SALES
Sales: None this week --. The anatomy of the North Am. has changed--his arms are too short for his hands to reach his pocket book--congers up the image of the TRex--still has an appetite and is ferocious so is a force to be reckoned with but mostly mouth and big eyes. We have five people coming through on Saturday's tour with Chris Howard--we'll see. What with the $.75 Canadian dollar and the uncertainty in the US, it's not too surprising that people are not buying.

Financing: Chinese lead: we're following up to see what is happening.
Website: The first draft of the final section of our website - Optional Upgrades - is beginning to take its form. Our web developer has presented Version 1 on Friday. He is now entering all data, images, etc. The principal purpose of this website is for our purchasers to browse through the wide range of optional upgrades we have available, select those they wish to add to their homes and in a similar manner as shopping online -- place their work order to us through a simple, user-friendly interface.
» CONSTRUCTION LOG
Permit Applications: Waiting--SETENA--D1--we wait and that will probably be the story until the end of January. I followed up on this with the consultant and he said that all was in order and that we should have this approval on time.

Construction: The governing governmental body has not met on this so it is still pending. After their approval, it will have to go the the City. We wait but are not in a hurry. It now seems they want some more information and may be doing an on-site inspection.
Water: The consultant's confidence of having the letter in-hand this week was ill based. He is still trying to get someone to do their job....He's broadened his pressure points. He seems to now be on the waiting list to see the Assistant Deputy Director for the area. The importance of a person seems to be based on the length of the waiting list and the waiting list is kept purposefully long so the person can remain important. It continues to be the deal with form, not substance mentality. However, little by little: We did get a confirmation that the lot we will be required to buy for the pumping station we will have to put in is at least about 400 m down hill from our property. This is a substantial difference from the previous information; we now have many more options and can use price as a criteria.

Consultant Conference: We had a conversation with the consultants this week and straightened their minds out as to what was critical..... It seems that several had lost his focus and we had to smarten him up.

Stream: the workers have cleaned most of the stream of debris and will finish cleaning it next week.

Comment: Having a stream running through our property and the change in policy from initially allowing us to use well water to now requiring us to use government distributed water (even though they can't distribute it, has complicated our life. However, I still find it curious that so many concerns are investigated by the government and I do not believe there is ONE operating government sewage treatment plant in the Central Valley if anywhere in CR. The rivers are the sewers--and that is why one wants to be near the headwaters of any stream / river--. There is no sewage treatment facility for any of San Jose and the Tico Times reported a protest that the only treatment plant for processing honey wagons had been closed.
» RESIDENCIAS LOS JARDINES
Texas Hold'em: new winners and a big pot....enthusiasm is growing.
Software Tracking & Reporting System: Last August I had become so frustrated with the system we had, I urged a changed. We specified what we wanted, tendered one of three paid 50% and was told we'd have delivery of the product in 1 month. It is now 5 months later and we are still missing the third and final segment of the program. Countless excuses, appointment cancellations, etc. My patience expired and since I had time this week to focus on it--did so. On Friday I had an eyeball-eyeball with the provider--and low and behold, the program is nearly completed.......I think the virtual ink is still wet but I reviewed this segment with the accountant and with a few known gaffs which are suppose to be fixed next week, we'll review it again and then make some specific changes. The accountant, who was handling this delivery, was getting no where....she had to bring in "the big bad gringo boss" it seems to get them working on it. If there is to be a reward in this, the girl doing the software work is really nice....

Rentals /Sales: We've leased 112 and 111. Unit 113 will now be furnished and put on the market.
Units for Sale/Lease: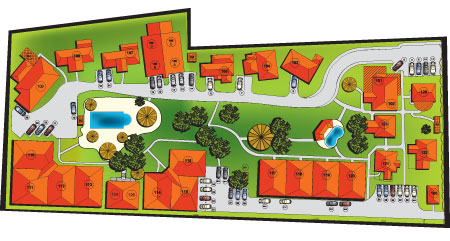 Unit #107 - For Sale/ REDUCED PRICE $239,000 / Leased for $1,650 mo. to Jan. 2010.--OWNER FINANCING AVAILABLE
Total Area (Sq Ft): 1716
Total area (Sq M): 158
Bedrooms: 2
Bathrooms: 2.5
Floor(s): 2 Story
Type: Detached
Furnished: Yes

This 1,716 sf. (plus parking for one car) two story, detached house, with three terraces, two bedrooms (one on each floor) and upstairs master suite is a beautiful home. This home consists of two VERY large bedrooms (one on each floor) with en-suite bathrooms and a powder room, each with large closets with extensive built-ins for personal organization. The vaulted living room and ground floor bedroom ceilings as well as the master bedroom on the 2nd floor, provide a feeling of grandeur while allowing the warmer air to rise and exit through the ceiling ventilating system. There are three TVs (one in each bedroom and one in the living room.) This is a beautiful home. There is a rough-in for a dishwasher in the kitchen area.
Read More
Unit #120 - For Sale--$185K /Leased at $1,450mo.
Total Area (Sq Ft):
1312
Total area (Sq M):
122
Bedrooms:
2
Bathrooms:
2
Floor(s):
1 Story
Type:
Semi-Detached
Furnished:
Yes
This 1,312 sf single floor home includes a 300 sf front terrace plus parking for one car. It is an end unit and therefore attached on only one side providing ample lighting and views. The 6 inch cement demising (common) wall prevents sound transfer. This is a very nicely furnished and accented home.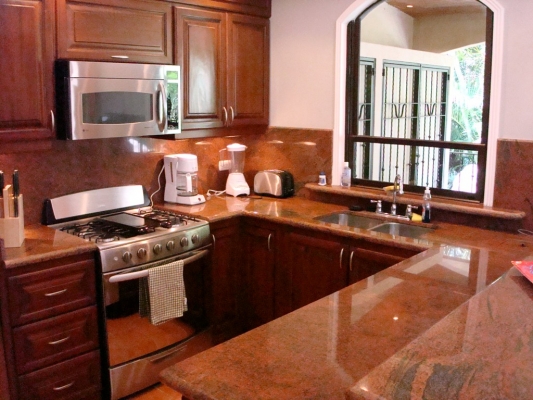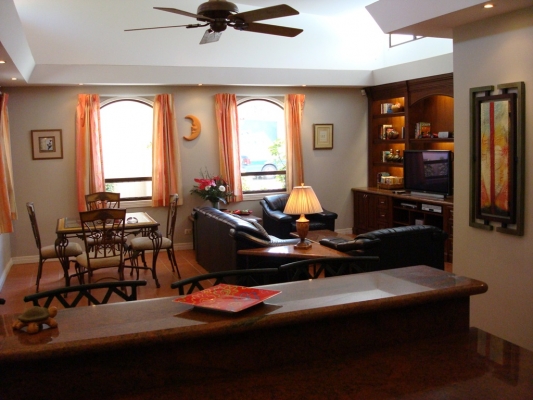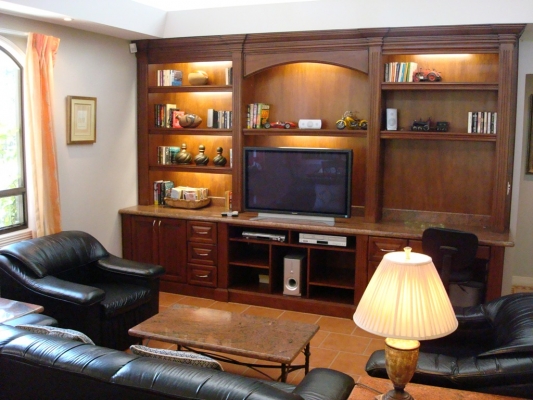 Read More
Unit #108 --For Sale-$245,000; Leased at $1,600 mo. to March '10
Total Area (Sq Ft):
1716
Total area (Sq M):
158
Bedrooms:
2
Bathrooms:
2.5
Floor(s):
2 Story
Type:
Detached
Furnished:
Yes
This 1,716 sf. (plus parking space for one car) two storey, detached house, with two terraces, two bedrooms (one on each floor) and an upstairs master suite is a beautiful home.
This home consists of two VERY large bedrooms with en-suite bathrooms (one on each floor) and a powder room each with closets with extensive built-ins for personal organization. The vaulted living room and ground floor bedroom ceilings as well as the master bedroom on the 2nd floor provide a feeling of grandeur while allowing the warmer air to rise and exit through the ceiling ventilating system.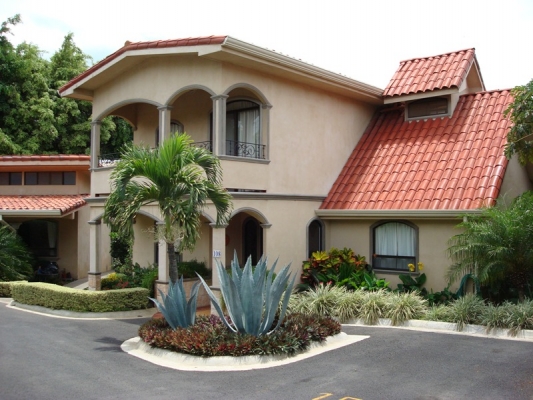 Read More
Unit

124

-

Available for Rent

FURNISHED (March 25 thru Nov 30, 2009)

Total Area (Sq Ft): 662
Total area (Sq M): 61
Bedrooms: 1
Bathrooms:1
Floor(s): 2nd Floor
Type: Semi-Detached
Furnished: Yes
This 662 sf, + covered parking
for
one car, is a one bedroom home on the 2nd floor overlooking the large pool. It is ideal
for
a single person or couple.
Read More


» NEWS FROM COSTA RICA
If your browser does not support the hyperlinks below, you can view the COSTA RICA NEWS section on our website from the following URL:
» https://www.eldoradocostarica.com/English/News/index.php

February 25, 2009
Costa Rica Economy May Slow to Standstill, Arias Says
(Inside Costa Rica) Costa Rica's economy may slow to a standstill this year as foreign direct investment drops "severely" and demand for exports wanes, Costa Rican president Oscar Arias says.

Read
February 25, 2009
Costa Rica and France team up against climate change
(The Tico Times) France's Chief Negotiator for Climate Change, Brice Lalonde, is in Costa Rica this week discussing ways France and Costa Rica can cooperate in the fight against climate change.

Read
February 25, 2009
Costa Rica's Bid to Join Chavez Alliance Delayed by Oil Slump
(Bloomberg) -- Costa Rica's bid to join Venezuela's Petrocaribe alliance, which provides subsidized oil to Central American and Caribbean countries, has been delayed by the plunge in crude prices, Costa Rican President Oscar Arias said.

Read
February 25, 2009
Costa Rican Real Estate: Stable Long Term Prospects
The property news coming out of Costa Rica is by no means a cause for celebration but it is not all gloomy either. Costa Rica still remains among the most popular second home destinations for U.S. citizens. The country has successfully branded itself as a premiere eco-tourism destination and the tourism sector is expected to continue growing. Low cost of living and property taxes still attract adventurous retirees who are looking for cheaper options without too many compromises.

Read
February 25, 2009
How is Costa Rica's economy weathering the global downturn? What investments are safe st amid this tumultuous financial climate?
Chat with financial consulting firm Aldesa's strategy manager, Eric Vargas.

Read
February 24, 2009
Costa Rican Lawmakers Approve $500 Million IDB Electricity Loan
(Bloomberg) -- Costa Rican lawmakers last night approved a plan to borrow $500 million from the Inter-American Development Bank to invest in the electrical grid and spur economic growth, said Francisco Antonio Pacheco, president of the legislative assembly.

Read
February 24, 2009
Costa Rica Seeks China, EU Trade Pacts by May 2010, Ruiz Says
(Bloomberg) -- Costa Rican Trade Minister Marco Vinicio Ruiz said the Central American country is seeking to reach free trade accords with China, Singapore and the European Union as part of a strategy to diversify markets and lessen the effects of the global financial crisis.

Read
February 23, 2009
Costa Rica exports take hard hit in January
(The Tico Times) Costa Rican exporters sustained a considerable blow from the global economic crisis in January, grossing only $600.6 million, 19 percent below the January 2008 total, the Foreign Trade Ministry (COMEX) reported.

Read
February 23, 2009
Costa Rica's UPEACE to offer new M.A. in sustainable development
(The Tico Times) Costa Rica's University for Peace announced a new master's program designed as an MBA for sustainable development professionals.

Read

» OUR LIVES
Weather: Warm and dry with normal breezes. It's no real surprise that the government plans to build a wind farm near Santa Ana to supply electricity to the grid. The location of this is still a mystery.
Ahhhh!!! Glorious Prime Rib of Beef:
I forgot to include the photo record of stress relief for Terry, the main chef:
Everybody is Happy After Dinner... at Los Jardines
Terry's Afterparty at Rock'n'Roll Bar & Grill in Santa Ana
February 14 Liquor Sale:
Yes, Hipermas (Walmart CR) has a 50% off on all wines for the day. When I first heard of this, I dismissed it as being too bizaar. Later that day, I was called with the same info. I went, and sure enough, I couldn't believe it. When in Canada does one ever get a 50% discount on wine?
Granada:
the return was significant only in the fact that we cleared both Nicaraguan and CR Immigration and CR Customs in record time--probably under an hour. The three movies on the way up and two on the way back help pass the time--so does a bottle of wine and snacks...!!! The plan next time is to go with friends to San Juan Del Sur and probably rent a house for a few days and check out the area again there. We were there once and didn't like it but the weather was lousy so we'll give it another try......
Note:
We passed the wind farm in Nicaragua just north of the CR border and along the shores of Lake Nicaragua. There appear to be about 15 of these windmills..... fully complete but NOT operational. I did not see a completed transmission line......so much for coordinated planning!
Stalled Projects:
I see more and more evidence of construction slow downs--several projects look now to be closed down and it is my understanding that Kirebe has shelved their project between Pozos and Santa Ana.
Roadway Construction:
It is in full swing with lots and lots of equipment, manpower, and resulting chaos, confusion, traffic tie-ups, etc. The construction company is making progress which is rewarding if we can just be patient a bit longer. I don't think anyone doubts that this road will be finished this time and perhaps as early as the latter part of this year or early next year.
Brian, Lita, Hugo, irreverent Vicka, the pigeon toed parrot, and the newbies — Chico and Chica.
Jan Kozak, Marketing Manager
Hacienda El Dorado
Rio Oro, Santa Ana
Costa Rica
Web: www.eldoradocostarica.com
E-mail: info@eldoradocostarica.com
MSN: jan.kozak.jr@hotmail.com
Skype: jan.kozak.jr
Tel (US) (+1) 647-477-5825
Cell: (+506) 8345 8018