Progress, Conflicts, Rentals, etc.


» NOTES
NEW TELEPHONE NUMBER: +506 8345 8018 - JAN KOZAK, MARKETING MANAGER

When I started Residencias Los Jardines, I started writing a weekly news letter —determined to tell all the good, bad, and the ugly. I knew some readers would be interested in the construction process. I expected others might be interested in the lifestyle of two people who had decided to live outside the box. For others, the adventures of lita, the parrot and the cat took on an entertainment saga all its own.

Residencias Los Jardines is finished. We periodically have resales and rental availability. Some readers may be interested in this information.

More and more, the content will be dominated by events of our new project, "El Dorado" for short. While the future is always uncertain, I again aim to tell it like it happens —the good, the bad, and the ugly, and that is what follows.

In an effort to make the format more interesting and visually appealing and to field inquiries re. El Dorado, the news letter is now being distributed by Jan Kozak, Marketing Manager, Hacienda El Dorado. I will remain the author.

»MARKETING & SALES
Sales: None this week -- several inquiries and showings.
Financing: Chinese lead: No feedback.
Note: I was at Scotiabank doing some banking. I spoke with the bank manager. She was proud to be just closing a loan for $1 million, at nearly 13% interest, with a 60% loan to value ratio (that value would be based on Scotiabank's appraisals which are notoriously conservative. I commented that the borrower must really need the money; she confirmed that that was the case. This is not an environment to be borrowing in.
» CONSTRUCTION LOG
Permit Applications:
Waiting--SETENA--D1--we wait and that will probably be the story until the end of January. I followed up on this with the consultant and he said that all was in order and that we should have this approval on time.
Construction: The governing governmental body has not met on this so it is still pending. After their approval, it will have to go the the City. We wait but are not in a hurry.
Water:
The original letter we had did not meet the standard--I was not surprised. The consultant is confident that we will have the letter we need in sufficient detail and commitment which will meet this important criteria. After all, why would they (AyA) not give us the letter. We would have to agree to build the system, give it to them, and they, in turn, allow us to use some water. They are scheduled to do this as part of their upgrade in a couple years. If we do it, this saves them the $$.......
Note:
One of our investors who has purchased 15 units at El Dorado was in town. Through our various negotiations, he's been a reasonable and pleasant person so it's always been a delight to see him when he's in Costa Rica. He has a beach condo--one of 16 units in a midrise building in Guanacaste. He's definitely not happy with his property management company--the common element fees have gone in one year from around $210 to around $550; he has seen virtually no revenue from rentals and either suspects them of misleading him or of leasing it out without forwarding the income. In addition, the expenses that he is billed are mystifying and either not transparent or greatly over charged. He's changed management companies--I hope they will be more successful. He visited us when an investor of Los Jardines was here to pick up his $4,400 check for the previous three months..... I took a little pleasure in rubbing it in but bought him dinner afterwards. The fact of the matter is, that most people who call themselves "property managers" haven't a clue as to what they are doing and usually do very little and sometimes are down right deceitful.
Timing:
While the visit with the above purchaser accomplished a number of things, certainly one of the main messages he wanted to deliver was that deferral of construction was more desirable than rushing things. I've subsequently received several similar messages. This does not surprise me and it is consistent with what I have anticipated and what Paul and I currently feel. We will, however, continue to get our permits to meet our end of the agreement and to be better positioned to start when it is agreed that the world is not coming to an end. Now if CR wants to use us as a stimulus vehicle, we might be very happy to comply but that's a dream so... The government is talking about creating some plans but so far, not much rubber has met th road. It could be that the survey being done by Banco Nacional is part of the research the government is doing. The construction industry is reported to have lost 20,000 to 30,000 jobs over the past little while. What is not built also affects future revenue and purchasing for the country. Certainly our residents spend a lot of money living here and it is all hard currency.....
» RESIDENCIAS LOS JARDINES
Texas Hold'em: A good game with lots of entertainment. Mr. Poker Star was off his game and got shut out. The bridesmaid became the bride and a newbie to the winners circle walked out with the prize money.

Wind: It's backed off from the gale force winds we had been experiencing and the temperatures have gone up but at least we are not choking in dust all the time.

Rentals: We've shown 112 several times but no commitments. We did a short term (2 month) lease for unit 124--it dovetailed with the vacancy and the person was a friend of an existing resident. I was contacted by a previous guest at Los Jardines; Her husband's company has a contract which requires about 5 people for 6 mo. They will be reviewing what we have to offer on Tuesday. We don't have much but depending on timing and budget, as to what we can arrange.

Gardeners: Training them continues to be a challenge. After being flat on my back for three days this week as a result of a twisted back, I walked the property and had never seen the garden as dry as it was and the swimming pools as dirty. That observation combined with a few other antics, caused me to loose it. They are good guys but lack the capability to think, plan, prioritize and multi-task. Looking at the list, guess I'm really asking for a lot ....
Units for Sale/Lease: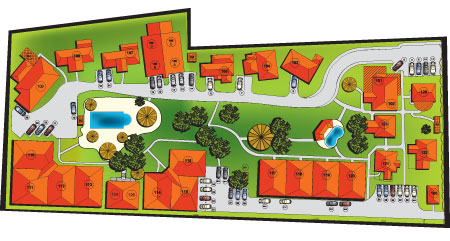 Unit #107 - For Sale/ REDUCED PRICE $239,000 / Leased for $1,650 mo. to Jan. 2010.--OWNER FINANCING AVAILABLE
Total Area (Sq Ft): 1716
Total area (Sq M): 158
Bedrooms: 2
Bathrooms: 2.5
Floor(s): 2 Story
Type: Detached
Furnished: Yes

This 1,716 sf. (plus parking for one car) two story, detached house, with three terraces, two bedrooms (one on each floor) and upstairs master suite is a beautiful home. This home consists of two VERY large bedrooms (one on each floor) with en-suite bathrooms and a powder room, each with large closets with extensive built-ins for personal organization. The vaulted living room and ground floor bedroom ceilings as well as the master bedroom on the 2nd floor, provide a feeling of grandeur while allowing the warmer air to rise and exit through the ceiling ventilating system. There are three TVs (one in each bedroom and one in the living room.) This is a beautiful home. There is a rough-in for a dishwasher in the kitchen area.
Read More
Unit #120 - For Sale--$185K /Leased at $1,450mo.
Total Area (Sq Ft):
1312
Total area (Sq M):
122
Bedrooms:
2
Bathrooms:
2
Floor(s):
1 Story
Type:
Semi-Detached
Furnished:
Yes
This 1,312 sf single floor home includes a 300 sf front terrace plus parking for one car. It is an end unit and therefore attached on only one side providing ample lighting and views. The 6 inch cement demising (common) wall prevents sound transfer. This is a very nicely furnished and accented home.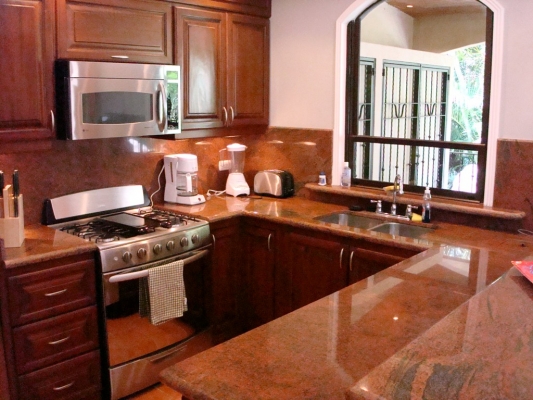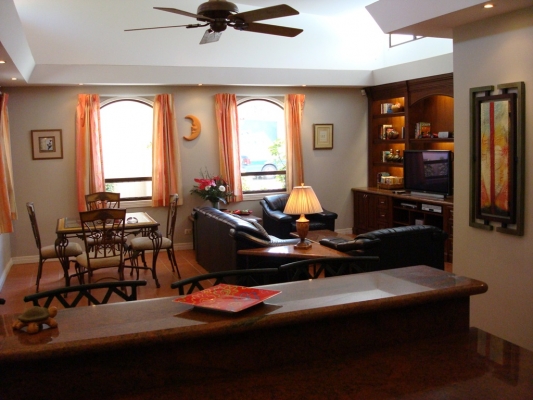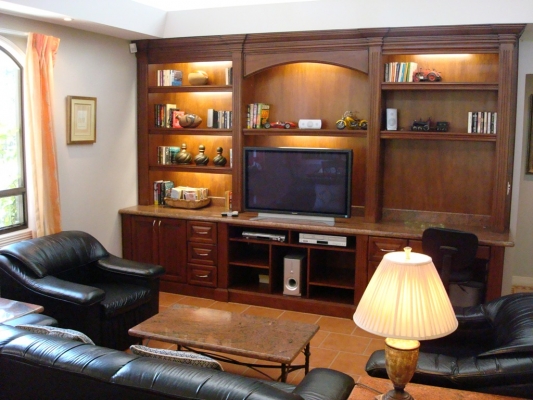 Read More
Unit #108 --For Sale-$245,000; Leased at $1,600 mo. to March '10
Total Area (Sq Ft):
1716
Total area (Sq M):
158
Bedrooms:
2
Bathrooms:
2.5
Floor(s):
2 Story
Type:
Detached
Furnished:
Yes
This 1,716 sf. (plus parking space for one car) two storey, detached house, with two terraces, two bedrooms (one on each floor) and an upstairs master suite is a beautiful home.
This home consists of two VERY large bedrooms with en-suite bathrooms (one on each floor) and a powder room each with closets with extensive built-ins for personal organization. The vaulted living room and ground floor bedroom ceilings as well as the master bedroom on the 2nd floor provide a feeling of grandeur while allowing the warmer air to rise and exit through the ceiling ventilating system.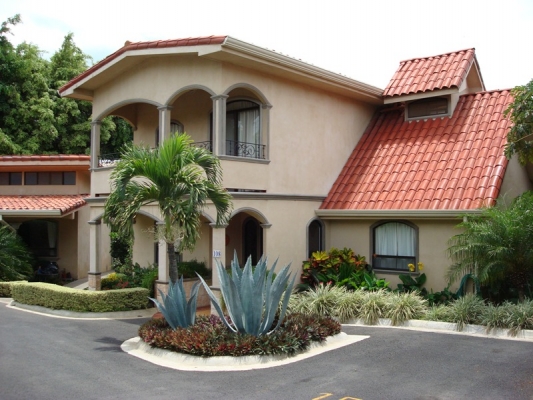 Read More
Unit #111 --For Rent at $1,250 pr Month UNFURNISHED

Total Area (Sq Ft):
1738
Total area (Sq M):
161
Bedrooms:
2
Bathrooms:
2
Floor(s):
Single Floor
Type:
Attached
Furnished:
No
This corner home located in set of four homes, is very private. The entrance belies the 1,738 sf to be found on the other side of the entrance door. The short entrance hallway opens into a huge "great room" consisting of the kitchen, LR and DR. This room is truly of huge proportions including the 16' high vaulted ceiling. This vaulted ceiling has clear story windows for light and ventilation. Valance lighting surrounds the room and provides ambiance with its upward sighing lights as well as accent lighting with the recessed halogen lights. From the living room, a large sliding glass door leads onto a private covered terrace.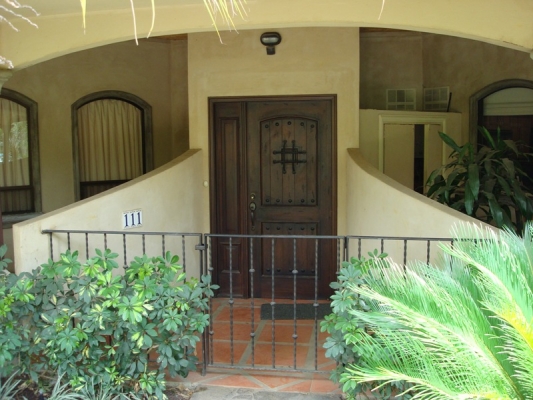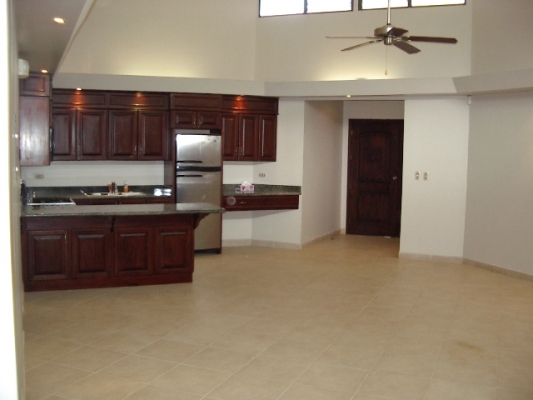 Read More
Unit 124 - For Rent at $950 pr Month FURNISHED (Available May 1, 2009)

Total Area (Sq Ft): 662
Total area (Sq M): 61
Bedrooms: 1
Bathrooms:1
Floor(s): 2nd Floor
Type: Semi-Detached
Furnished: Yes

This 662 sf, + covered parking for one car, is a one bedroom home on the 2nd floor overlooking the large pool. It is ideal for a single person or couple.
Read More
Unit #
112

- Available for Rent at $1,350 pr Month FURNISHED

Total Area (Sq Ft):1290
Total area (Sq M):120
Bedrooms:2
Bathrooms:2
Floor(s):1 Story
Type:Attached
Furnished:Yes

This 1,290 sf single floor home includes a 300 sf front terrace plus parking for one car. It is attached on two sides by a 6 inch cement demising (common) wall, which prevents sound transfer.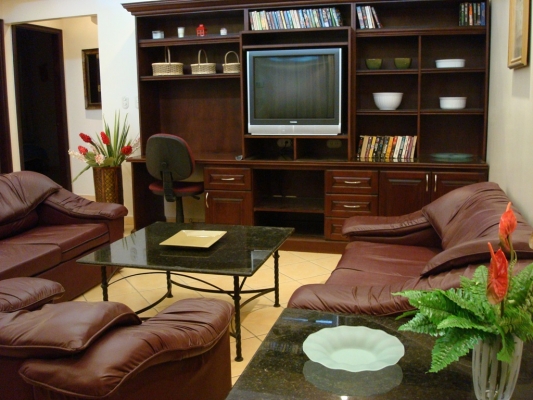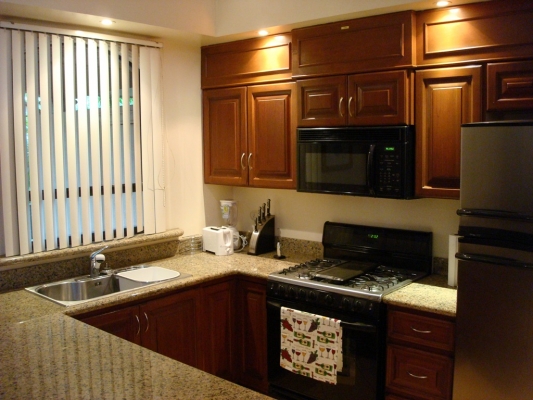 Read More


» NEWS FROM COSTA RICA
If your browser does not support the hyperlinks below, you can view the COSTA RICA NEWS section on our website from the following URL:
» https://www.eldoradocostarica.com/English/News/index.php

February 14, 2009
San José - Santa Ana Highway To Be Ready By May. Let's Hope.
(Inside Costa Rica) Getting from La Sabana to Escazu can take up to 20 minutes and 40 minutes to Santa Ana on the autopista Próspero Fernández, as traffic through the area has totally collapsed due to the construction of the new San José - Caldera highway.

Read
February 14, 2009
Heavy Trucks Off The Highways This Weekend
(Inside Costa Rica) Early this morning (Saturday) the Policía de Tránsito, under the direction of Germán Marín, began an intensive operation on the nation's roads for a safe return home for vacationers and a safe back to school on Monday.

Read
February 14, 2009
Costa Rica Closes 3 Embassies, 2 Consular Offices In Cost Cutting Plan
(Inside Costa Rica) Costa Rica has decided to close three embassies around the world and two consulates in the US, as part of the Arias government cost cutting measures. The Ministerio de Relaciones Exteriores (Foreign Ministry) announced yesterday that it would be closing embassies in Bolivia, Czech Republic and Paraguay, in addition to its consular offices in Chicago and Puerto Rico.

Read
February 14, 2009
Price Of Crude Drops While Gasoline Prices Keeps Going Up In Costa Rica
(Inside Costa Rica) Although the price of crude oil sat at a low us$35.10 dollars a barrel, yesterday, the Autoridad Reguladora de los Servicios Públicos (Aresep) is considering the latest request by the state refinery to increase - yes, you read it right - increase the price of gasoline.

Read
February 13, 2009
Actor Seagal wants to bring Hollywood to Costa Rica
SAN JOSE, Costa Rica, Feb 11 (Reuters) - Action movie star Steven Seagal told Costa Rican President Oscar Arias on Wednesday he wants to help the Central American country build a filmmaking industry to put its dramatic landscapes to use.

Read
February 13, 2009
Right name, wrong place
The glossy brochure in the travel agent's window does not always tell the whole story. But how can holiday plans go so hideously wrong that people end up in the wrong country, or even the wrong continent?

Read
February 13, 2009
Actor Seagal eyes up Costa Rica
(BBC News) Action movie star Steven Seagal has told Costa Rica's president that the country should be developed as a centre for making films.

Read
February 13, 2009
Costa Rica, Singapore set to negotiate free trade agreement
SAN JOSE (AFP) Costa Rica and Singapore will begin negotiating a free trade agreement on April 20, the foreign trade ministry announced on Thursday.

Read
February 12, 2009
World Bank offers Costa Rica $500 million
(The Tico Times) Costa Ricans could have access to $500 million of standby credit during the present economic crisis.

Read
February 11, 2009
More companies close doors in Costa Rica
(The Tico Times) Faucet distributor Helvex became one of the latest companies to downsize in Costa Rica after it closed its plant in southeastern San José last week, leaving 20 employees out of work.

Read
February 10, 2009
NGO builds prefab houses for Costa Rica earthquake victims
(The Tico Times) About 100 volunteers with the non-governmental organization Un Techo para mi País (A Roof for my Country) built 15 temporary homes this past weekend for families left homeless after the Jan. 8 earthquake.

Read
February 10, 2009
Costa Rican Website is Launched for the German Community
The recently launched website follows in the informative format focusing on all travel related issues regarding the Central American country of Costa Rica.

Read
February 10, 2009
Chinese vice president in Mexico to boost trade
MEXICO CITY (AFP) — Chinese Vice President Xi Jinping began a visit to Mexico, meeting with President Felipe Calderon and business leaders in a bid to boost trade between the two nations.

Read

» OUR LIVES
Weather: warm and dry with normal breezes
Standing Prime Rib of Beef:
We've organized a dinner for Feb. 15. We goofed on the pricing. When we made the first purchase (roast for $210) Terry commented that we had already exceeded our total budget!!! Good planning guys.......good thing we aren't in the restaurant business. We got some more people to attend (now 24) and will probably pass the beggars cup at the party to see who wants to bail us out....... This was never meant to be a money maker but we didn't expect to loose money either......... In addition to the prime rib roast, we promised roast potatoes and gravy, French green beans, Ceasar salad, and fruit.... I hope our attendees will take pity in our stupidity and toss us a colon.....
Conflicts:
Managing the physical property is easy compared to dealing with the personalities. When I came to Costa Rica I decided to change many aspects of my life. I had previously decided that after 20 years of working in a large company and having to work at times with people I didn't like and in a job that I no longer enjoyed, that I would do neither thereafter. While I have generally maintained this promise to myself, I find myself in a situation where I am not having fun in some aspects--there are currently several sources of discontent as well as a number of sources of satisfaction. Discontent is a more powerful source of motivation than satisfaction. If this persists, I will be taking corrective action by eliminating the sources of discontent and return myself to my promised goal. I don't need, nor want hassles that others insist on dumping on my lap. I have a number of options which shifts the burden of responsibility to the source(s) of discontent... I can always choose not to play the game or to play only selectively--it's really very simple ... up to now, I have chosen not to do this because I've been driven by the longer term benefit of most of the people and the satisfiers in the role I've created. Sometimes a "reality check" is a good educator and a tough taskmaster.
Time Out Tavern:
Again to the delight of 12 people, the meals was delicious including salmon, corvina, hamburger, fish and chips, nachos, misc. sandwiches, etc. The place was very busy; our table(s) were promised to waiting customers and more were still waiting. They continue to do it right.
Brian, Lita, Hugo, irreverent Vicka, the pigeon toed parrot, and the newbies — Chico and Chica.
Jan Kozak, Marketing Manager
Hacienda El Dorado
Rio Oro, Santa Ana
Costa Rica
Web: www.eldoradocostarica.com
E-mail: info@eldoradocostarica.com
MSN: jan.kozak.jr@hotmail.com
Skype: jan.kozak.jr
Tel (US) (+1) 647-477-5825
Cell: (+506) 8345 8018