Earthquake, Rentals, Incredible Story


» NOTES
NEW TELEPHONE NUMBER: +506 8345 8018 - JAN KOZAK, MARKETING MANAGER

When I started Residencias Los Jardines, I started writing a weekly news letter —determined to tell all the good, bad, and the ugly. I knew some readers would be interested in the construction process. I expected others might be interested in the lifestyle of two people who had decided to live outside the box. For others, the adventures of lita, the parrot and the cat took on an entertainment saga all its own.

Residencias Los Jardines is finished. We periodically have resales and rental availability. Some readers may be interested in this information.

More and more, the content will be dominated by events of our new project, "El Dorado" for short. While the future is always uncertain, I again aim to tell it like it happens —the good, the bad, and the ugly, and that is what follows.

In an effort to make the format more interesting and visually appealing and to field inquiries re. El Dorado, the news letter is now being distributed by Jan Kozak, Marketing Manager, Hacienda El Dorado. I will remain the author.

Note: I did not publish a newsletter last week. There was nothing new to report.
»MARKETING, WEBSITE & SALES
Sales: None this week but we have has several inquiries and made two presentations.

Marketing: The feature article in BoomerScape--a US based targeted website, has not yielded any results. I guess the boomers are too beaten up to be interested in their future.
» CONSTRUCTION LOG

Permit Applications: Waiting--SETENA--D1--we wait and that will probably be the story until the end of January. We will be submitting information to another government regulatory branch--INVU--soon.

Construction: It seems that those required to make the decision are still on holidays. Wow!!!!!
We have received the first draft of the engineering drawings for the bridge--no problems--and the first draft of the roadway / water management system over the quebrada -- a lot of questions which need to be reviewed. We have been promised the drawings for the Maya Tower retaining wall for Saturday. We'll see. We have a meeting set for 4pm. on Monday to review all.

Water: Another week and nothing--Welcome to CR.
Comment:
correction. Last week I said that Avalon was going ahead with another development south of the Biker's Bar and along the west road leading to El Dorado. I was wrong. It is not Avalon but another developer from Columbia who plans on building 25 --- 250 meter houses. I haven't yet seen any marketing for the project.
» RESIDENCIAS LOS JARDINES
Website Upgrade / Marketing: Photos of Residencias Los Jardines, the Santa Ana area and some of the houses are available on line at:

https://picasaweb.google.com/gardenresidencesresort

Texas Hold'em: Mr. Poker Star won again this Wednesday but he had to split the pot with contender.

Rentals: Unit 109: We had trouble collecting from this tenant last month. This month was shaping up to be a repeat. Despite the rhetoric, I was dubious. Experience has shown that money talks and BS walks. Based on my previous experience with him, he had no credibility with me. After 15 days of trying to collect, I gave notice that if he had not paid or could not show evidence that money was being transferred, I would shut off his TV, phone, and internet--as per the contract. He did a midnight exit. In CR, there seems to be a higher incidence of people who are not what they pretend to be than in my previous life. We've had a few bad apples here over the years, and in all cases that we were able to follow, they continued to be bad apples for future landlords. The most recent being Friday I received feedback on one of our previous "bad apples"; he left the landlord he went to from Los Jardines owing $9,000 and is rumored to be wanted by Interpol. In order to help out other landlords, I offer the following:
Warning: If an affable guy with the initials NB carrying a British passport applies for a vacancy, and you would like to know our experience, e-mail me-- (asomhugo@yahoo.com) or call me 8-305-39-65
Re. Unit 111: the estate owning this unit is nearly settled. The new owner as authorized us to lease it UNFURNISHED. See below....
Marketing: We had two clients interested in purchasing units. We are still in discussion with them. We'll see if anything develops.
Small Shade Ranchos--pallapas--Large pool: The teak columns rotted after 6 years. Teak is known for it's resistance to rot. That is more the case of older trees. These were only about 5" in diameter. As the tree matures, it develops the oils which give it this rot resistance characteristic. These weren't old enough. Despite having wrapped them with a moisture barrier, the constant water (rain and hosing) contributed to their condition. We are restructuring both ranchos.
Phone System:
Continues to work fine now but I have to recapture the cost of the calls.
Units for Sale/Lease: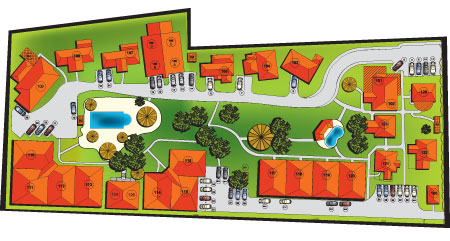 Unit #107 - For Sale/ REDUCED PRICE $239,000 / Leased for $1,650 mo. to Jan. 2010.--OWNER FINANCING AVAILABLE
Total Area (Sq Ft): 1716
Total area (Sq M): 158
Bedrooms: 2
Bathrooms: 2.5
Floor(s): 2 Story
Type: Detached
Furnished: Yes

This 1,716 sf. (plus parking for one car) two story, detached house, with three terraces, two bedrooms (one on each floor) and upstairs master suite is a beautiful home. This home consists of two VERY large bedrooms (one on each floor) with en-suite bathrooms and a powder room, each with large closets with extensive built-ins for personal organization. The vaulted living room and ground floor bedroom ceilings as well as the master bedroom on the 2nd floor, provide a feeling of grandeur while allowing the warmer air to rise and exit through the ceiling ventilating system. There are three TVs (one in each bedroom and one in the living room.) This is a beautiful home. There is a rough-in for a dishwasher in the kitchen area.
Read More


» NEWS FROM COSTA RICA
If your browser does not support the hyperlinks below, you can view the COSTA RICA NEWS section on our website from the following URL:
» https://www.eldoradocostarica.com/English/News/index.php

January 14, 2009
Obama Raises Costa Rican Hopes of Renegotiating CAFTA
(The Huffington Post) The change promised by the incoming Obama administration has raised hopes not just in the United States but throughout the world. In Latin America, the winds of change have been blowing for several years with electoral victories by progressive candidates across South America.

Read
January 13, 2009
Several Earthquakes Jolt C America
SAN JOSE, Jan. 13 (Xinhua) -- Several earthquakes of medium intensity rocked different countries of Central America Tuesday, according to information reaching here.

Read

» OUR LIVES
Weather: Mostly beautiful, sunny weather with normal breezes. Cooler than normal.
Lita and the Parrot: Lita has finally admitted that Vicka has an "attitude problem". I've been telling her that for years but "mothers" don't want to hear the truth.

Earthquake: Aftershocks continue to be reported. We've felt one early Wednesday morning. This was a major earthquake and certainly affected many near the epicenter. Fortunately, we were far enough away and well built that the only evidence of the quake is a 1/2" change of levels between sidewalk and terrace slab in two locations. We have no cracks in either slabs, tile, walls, windows, etc.....
Kianti: we went again, and again it was good. I think this will become a regular--perhaps not as regular as Time Out Tavern which is weekly but regular.
Good News Story: Family members are visiting one of our residents. All of them went ziplining. In the process, the daughter-in-law lost her wedding ring of 34 years; she didn't notice it until she had returned home. She was devastated. They phoned the company, explained, and waited. Shortly, they received a call saying that the ring had been found and that they would bring it to her -- a 2 hour drive. They did!
Time Out Tavern
(Escazu) continues to serve up great fish and chips, hamburgers, and chicken wings. There were 16 in our group last Friday. Their business is thriving and well it should.
Brian, Lita, Hugo, irreverent Vicka, the pigeon toed parrot, and the newbies — Chico and Chica.
Jan Kozak, Marketing Manager
Hacienda El Dorado
Rio Oro, Santa Ana
Costa Rica
Web: www.eldoradocostarica.com
E-mail: info@eldoradocostarica.com
MSN: jan.kozak.jr@hotmail.com
Skype: jan.kozak.jr
Tel (US) (+1) 647-477-5825
Cell: (+506) 8345 8018