Earthquake & Waiting


» NOTES
NEW TELEPHONE NUMBER: +506 8345 8018 - JAN KOZAK, MARKETING MANAGER

When I started Residencias Los Jardines, I started writing a weekly news letter —determined to tell all the good, bad, and the ugly. I knew some readers would be interested in the construction process. I expected others might be interested in the lifestyle of two people who had decided to live outside the box. For others, the adventures of lita, the parrot and the cat took on an entertainment saga all its own.

Residencias Los Jardines is finished. We periodically have resales and rental availability. Some readers may be interested in this information.

More and more, the content will be dominated by events of our new project, "El Dorado" for short. While the future is always uncertain, I again aim to tell it like it happens —the good, the bad, and the ugly, and that is what follows.

In an effort to make the format more interesting and visually appealing and to field inquiries re. El Dorado, the news letter is now being distributed by Jan Kozak, Marketing Manager, Hacienda El Dorado. I will remain the author.

Note: I did not publish a newsletter last week. There was nothing new to report.
»MARKETING, WEBSITE & SALES
Sales: None this week but we have had several inquiries and made two presentations.

Marketing: We are reducing our advertising presence to one publication which seems to get more traction than others--4 Sale by Owner and Developer. We have a feature place holding in a US web based site--we'll see if anyone is watching.
» CONSTRUCTION LOG

Permit Applications: Waiting--SETENA--D1--we wait and that will probably be the story until the end of January. We will be submitting information to another government regulatory branch--INVU--soon.

Construction: We expect an answer on three items around Jan. 16.

Water: We had been led to believe we would hear on this issue this week. So far, nothing.
Comment:
I dropped in to see one of our construction material suppliers to see what he was experiencing re. reduction in activity. He said business was definitely down; that they had been burned by some large accounts and as yet, have not collected, that virtually most all activity in Guancaste, Jaco, and Escazu is shuttered and/ or on hold; that the "Riverwalk" project was on hold----because they either couldn't get the financing or the sales. To follow through on this, I drove several sites--the Forum II where they do not seem to be starting any more of the 6 or so remaining buildings, and one complex adjacent to (but I don't think a part of it) seems to be halted with the columns and the first floor of a multistory building having been completed. I also saw five new residential sites breaking ground--Kirebe, Avalon, and three in Guachapalin. The building at the end of our street is completed and sitting empty; the "Indigo" Hilton and commercial complex continues towards completion. There is still a lot of construction but if you look a bit closer, a lot of what one sees has to do with the new highway.
» RESIDENCIAS LOS JARDINES
Website Upgrade / Marketing: Photos of Residencias Los Jardines, the Santa Ana area and some of the houses are available on line at:

https://picasaweb.google.com/gardenresidencesresort

Texas Hold'em: Mr.Poker Star was upstaged by a newbie to the group. Everyone is now re-energized.

Rentals: We have nothing available; we continue to receive inquiries.
Phone System:
The PBX system which records the source and length of calls and then charges them seems to have failed. As of Friday night, it is now working but we have lost data for the past month. It's been reasonably reliable but for some reason, it buggered up.
Units for Sale/Lease: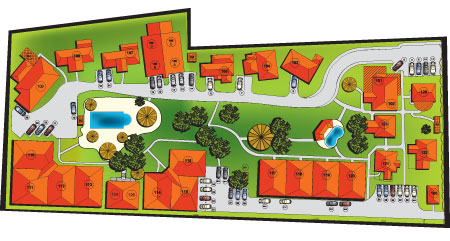 Unit #107 - For Sale/ REDUCED PRICE $239,000 / Leased for $1,650 mo. to Jan. 2010.--OWNER FINANCING AVAILABLE
Total Area (Sq Ft): 1716
Total area (Sq M): 158
Bedrooms: 2
Bathrooms: 2.5
Floor(s): 2 Story
Type: Detached
Furnished: Yes

This 1,716 sf. (plus parking for one car) two story, detached house, with three terraces, two bedrooms (one on each floor) and upstairs master suite is a beautiful home. This home consists of two VERY large bedrooms (one on each floor) with en-suite bathrooms and a powder room, each with large closets with extensive built-ins for personal organization. The vaulted living room and ground floor bedroom ceilings as well as the master bedroom on the 2nd floor, provide a feeling of grandeur while allowing the warmer air to rise and exit through the ceiling ventilating system. There are three TVs (one in each bedroom and one in the living room.) This is a beautiful home. There is a rough-in for a dishwasher in the kitchen area.
Read More


» NEWS FROM COSTA RICA
If your browser does not support the hyperlinks below, you can view the COSTA RICA NEWS section on our website from the following URL:
» https://www.eldoradocostarica.com/English/News/index.php

January 10, 2009
Red Cross Revises Death Toll in Costa Rica Quake
(AFP) The Costa Rican Red Cross has lowered its death toll from 14 to four from Thursday's magnitude 6.1 earthquake, the strongest to shake the country in the last 150 years.

Read
January 09, 2009
Costa Rica Earthquake Rescuers Try to Help Thousands
Jan. 9 (Bloomberg) -- Rescue workers are trying to get help to thousands of people left stranded or homeless by a magnitude- 6.1 earthquake that struck Costa Rica yesterday. At least 15 people were killed and another 250 people were rescued, the National Emergency Commission said.

Read
January 09, 2009
Costa Rica Earthquake Leaves Residents and Tourists on Edge
(Los Angeles Times) Residents and tourists remain on edge in Costa Rica, a day after a 6.2-magnitude earthquake shook most of the Central American nation. This morning, the Red Cross confirmed that five people died after an initial count of 14 dead; almost two dozen are missing, according to the Associated Press.

Read
January 09, 2009
Death Toll Rises to 9 from Costa Rica Quake
SAN JOSE, Costa Rica (AP) — Helicopters plucked tourists from destroyed, mountaintop resorts as the death toll from Costa Rica's magnitude-6.1 earthquake rose to at least 9 victims, the Red Cross said Friday.

Read
January 08, 2009
Country Jolted by Major Quake
(AM Costa Rica) (2:05 p.m.) A 6.2 magnitude earthquake hit north of the Central Valley this afternoon at 1:21 p.m. and set streets and buildings in motion. There were injuries.

Read
January 08, 2009
Cloudy Real Estate Market not Seen as a Fire Sale
(AM Costa Rica) Those in the business are quick to say the Costa Rican real estate markets to emphasize that there are no universal truths to the current economy.

Read
January 08, 2009
Strong Earthquake Hits Costa Rica
(BBC News) A strong earthquake has struck Costa Rica, the US Geological Survey has said.

Read
January 08, 2009
Strong Quake Hits Costa Rica but No Injuries Reported
SAN JOSE, Costa Rica (Reuters) - A strong earthquake struck Costa Rica on Thursday, shaking buildings and causing minor structural damage in the capital, but there were no initial reports of casualties. The U.S. Geological Survey said the magnitude 6.1 quake occurred some 20 miles (32 km) from San Jose at a depth of 21.7 miles (35 km). The USGS initially estimated the magnitude at 6.2.

Read
January 07, 2009
Latin America Dominates Top 10 Ethical Travel Destinations
(Los Angeles Times - Blogs) OK, so the holidays have only just ended, but if you're planning your next break to give yourself something to look forward to, perhaps you should consider Latin America -- especially if you want a holiday that won't damage anything but your wallet.

Read
January 07, 2009
Costa Rica's 2008 Inflation Hits 13.9 Percent
(The Tico Times) Costa Rica ended 2008 with an inflation rate of 13.9 percent, significantly more than 2007's 10.81 percent inflation, the National Statistics and Census Institute (INEC) reports.

Read
January 06, 2009
Costa Rica Criticizes Israel, Hamas
(The Tico Times) Costa Rica has joined calls for an immediate cease-fire in Gaza, where Israeli tanks, troops and bombs have killed about 550 people since Israel began attacking the area 10 days ago.

Read
January 05, 2009
Costa Rica Beefs Up Border with Nicaragua After Holidays
(The Tico Times) Costa Rican police arrested a man Saturday allegedly trying to bring 40 Nicaraguans into this country illegally to work in sugar cane fields in the northwestern province of Guanacaste, the Public Security Ministry said.

Read
January 05, 2009
Costa Rica Serves Copa del Café Tennis Tourney
(The Tico Times) Darling of U.S. tennis courts, Denis Kudla is set to take a swing at Costa Rica's Copa del Café, which opens today at 6:45 p.m. at the Costa Rica Country Club in the western San José suburb of Escazú.

Read
January 04, 2009
The Advantages of Owning Real Estate through a Costa Rica Corporation
(Potterworldonline.com) The process of purchasing Costa Rica real estate is not excessively sophisticated, yet it might require some time from you, often longer than what you have anticipated. This is the reason why those who want to own real estate in this country choose to do it in a manner that is collateral, i.e. through a Costa Rica company. It is a profitable manner of managing the purchase and the subsequent operations related to the proprietorship of the corresponding Costa Rican share of real estate, also guaranteeing the legality of your ownership. A Costa Rica company that owns real estate enjoys several rights from which a single individual could not benefit.

Read
January 04, 2009
Why Go to Costa Rica for Medical Care?
(TreatmentAbroad.net) US and Costa Rican medical tourism agency Health Choices International has developed answers to perennial questions they are asked by potential customers.

Read
January 04, 2009
Heavy Rains Isolate 6 Costa Rica Towns
SAN JOSE (Latin America Herald Tribune) -- Roads washed out. The heavy rains that began falling late last week have caused flooding, left six towns isolated and damaged at least 150 dwellings in rural areas in northern Costa Rica near the border with Nicaragua, a National Emergency Management Commission, or CNE, spokesman said.

Read
January 03, 2009
Tribu Saatchi & Saatchi Named Agency of the Year
Santa Ana, Costa Rica, January 03, 2009 --(PR.com)-- At the recent Volcán Centroamericano Festival, Tribu Saatchi & Saatchi was named the 2008 Agency of the Year by the Association of Advertising Agencies of Costa Rica, ASCAP.

Read
December 31, 2008
Driver Files First Appeal Against Costa Rica's New Traffic Law
(The Tico Times) Motorists have begun to sweat in the high beams of Costa Rica's recently approved traffic law, which consists of harsher punishments for anything from failing to buckle up to driving under the influence.

Read
December 30, 2008
Costa Rica Opens 28th National Park
San Jose, Costa Rica (The Earth Times) - The Costa Rican government has declared the Los Quetzales region the country's 28th National Park. The 4,000 hectares of reserve were first created in 2005 in one of the rainiest parts of the Central American country, 122 kilometres from the capital San Jose.

Read
December 30, 2008
Costa Rican Free Trade Agreement Enters Into Force
United States Trade Representative (USTR) Susan C. Schwab made a statement on December 23 regarding the entry into force of the Dominican Republic-Central America-United States Free Trade Agreement (CAFTA-DR) for Costa Rica.

Read

» OUR LIVES
Weather: Mostly beautiful, sunny weather with normal breezes.

Lita she's back at the gym trying to work off the holiday pleasures.

Earthquake: We are not far--probably 40 mi. as the crow flies--from the epicenter. A friend from the compound and his two son's were at the La Paz Waterfall Garden--the epicenter--the day before the quake. He parked in the parking lot which is now not there. Other friends had considered going there the day of the quake but deferred until March--this was fortunate. We understand that previous tenants were at La Paz when the quake hit; they had to be airlifted out. Another friend was at the Multiplaza--a large shopping mall in Escazu--about 1/4 of the people ran outside; the others perhaps too scared to run--he just wanted his Big Mac! Another friend was walking on the street in western San Jose---he saw the power poles swaying and was concerned about downed power lines--that didn't happen. I didn't feel a thing as I was in the car; I did see a number of people outside the buildings and wondered what was going on. Lita and some people at Los Jardines were frightened. At Los Jardines, the only damage was about 5 roofing tiles popped off a corner of one of the laundry buildings. Otherwise, no cracks, no broken water mains, no cracked windows......nothing. We felt a number of aftershocks which are always disturbing. For the past week we had had a number of small quakes. We always feel fortunate for the small ones as it relieves the pressures....better many small than one larger one. In this case, guess the small ones didn't relieve enough of the pressure. I believe there were some substantial slides which wiped out roads. Some buildings damaged and a couple people killed when their house fell down the hill and / or into a river--the house probably should never have been built there and was probably illegal but CR has a problem regulating anything.
The country will have some problems repairing roads and electric generation and at time of writing, some people are still isolated due to landslides blocking roadways and/or wiping out roads. The La Paz tourist area is probably out for some time.


Tourists leave the area near La Paz waterfall in Vara Blanca, some 45 kilometres north of San Jose




Police officers carry a dead body during rescue operations following one of the strongest earthquakes to hit Costa Rica in more than 100 years




Rescuers from Costa Rican Red Cross carry injured people in Sinchona de Alajuela, to safety




An aerial view of the region Vara Blanca de Heredia shows exposed red earth after landslides brought down trees, vegetation and buildings




The Red Cross search for survivors among smashed up cars




Rescue personnel carry out another earthquake survivor in Cinchona




A man looks at his home in Cartagos of Alajuela, destroyed by a 6.1-magnitude earthquake
Kiante: A new restaurant find. A former resident altered me to this Belen Tico restaurant. It is easy to find (actually has directions and signage) and is pretty close to Los Jardines. Service was good and the prices were reasonable. Lita had a wonderful corvina with an incredible tomato sauce (C5,500). I had a very tender steak with a peppercorn cream sauce (C6,000). Three others with us had equally great meals. We will be going back again--and soon.
Time Out Tavern
(Escazu) continues to serve up great fish and chips, hamburgers, and chicken wings +++


Brian, Lita, Hugo, irreverent Vicka, the pigeon toed parrot, and the newbies — Chico and Chica.
Jan Kozak, Marketing Manager
Hacienda El Dorado
Rio Oro, Santa Ana
Costa Rica
Web: www.eldoradocostarica.com
E-mail: info@eldoradocostarica.com
MSN: jan.kozak.jr@hotmail.com
Skype: jan.kozak.jr
Tel (US) (+1) 647-477-5825
Cell: (+506) 8345 8018