Christmas & Rentals


» NOTES
When I started Residencias Los Jardines, I started writing a weekly news letter —determined to tell all the good, bad, and the ugly. I knew some readers would be interested in the construction process. I expected others might be interested in the lifestyle of two people who had decided to live outside the box. For others, the adventures of lita, the parrot and the cat took on an entertainment saga all its own.

Residencias Los Jardines is finished. We periodically have resales and rental availability. Some readers may be interested in this information.

More and more, the content will be dominated by events of our new project, "El Dorado" for short. While the future is always uncertain, I again aim to tell it like it happens —the good, the bad, and the ugly, and that is what follows.

In an effort to make the format more interesting and visually appealing and to field inquiries re. El Dorado, the news letter is now being distributed by Jan Kozak, Marketing Manager, Hacienda El Dorado. I will remain the author.
»MARKETING, WEBSITE & SALES
Sales: None this week.

Marketing: We have reduced our advertising presence in two magazines. We maintain a presence but we don't expect to sell much.
» CONSTRUCTION LOG

Permit Applications: Waiting--SETENA--D1--we wait and that will probably be the story until the end of January.

Construction: We continue to wait on the answer on our three construction requests--the bridge, a roadway, and a retaining wall. The government has shut down now; I don't expect to hear anything until mid January. Our maintenance crew is on holidays; nothing is happening.

Water: We wait on a answer to our request to do a study which would tell us the specifications for delivery.
» RESIDENCIAS LOS JARDINES
Website Upgrade / Marketing:
Photos of Residencias Los Jardines, the Santa Ana area and some of the houses are available on line at:
https://picasaweb.google.com/gardenresidencesresort
Texas Hold'em:
One person has dominated the game over the past 4 weeks. Whether it's luck or skill will be determined over the next month.

Rentals:
We leased two units this week--both to Europeans -- Latvian and Swiss -- each are mother and daughter teams. Tenants left around 11 am and we had new tenants by 2pm the same day. We continue to occupy a niche market--moderately sized, nicely furnished and well appointed homes in a tropical, resort environment. Based on the units we lease, we have no vacancies until mid year. The owners of 111 will, however, make a determination of what they wish to do with that unit-- sell it or lease it-- by mid January.
Units for Sale/Lease: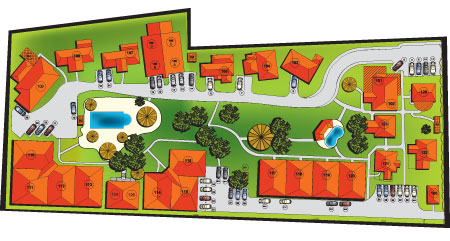 Unit #107 - For Sale/ REDUCED PRICE $239,000 / Leased for $1,650 mo. to Jan. 2010.--OWNER FINANCING AVAILABLE
Total Area (Sq Ft): 1716
Total area (Sq M): 158
Bedrooms: 2
Bathrooms: 2.5
Floor(s): 2 Story
Type: Detached
Furnished: Yes

This 1,716 sf. (plus parking for one car) two story, detached house, with three terraces, two bedrooms (one on each floor) and upstairs master suite is a beautiful home. This home consists of two VERY large bedrooms (one on each floor) with en-suite bathrooms and a powder room, each with large closets with extensive built-ins for personal organization. The vaulted living room and ground floor bedroom ceilings as well as the master bedroom on the 2nd floor, provide a feeling of grandeur while allowing the warmer air to rise and exit through the ceiling ventilating system. There are three TVs (one in each bedroom and one in the living room.) This is a beautiful home. There is a rough-in for a dishwasher in the kitchen area.
Read More


» NEWS FROM COSTA RICA
If your browser does not support the hyperlinks below, you can view the COSTA RICA NEWS section on our website from the following URL:
» https://www.eldoradocostarica.com/English/News/index.php

December 26, 2008
Costa Rica to See Electricity Bill Rise 15 Percent
(The Tico Times) The Public Services Regulatory Authority, ARESEP, approved a 15 percent raise in electricity rates that would take effect in January.

Read
December 26, 2008
Cima and Bíblica Hospitals Would Be Neighbors in Guanacaste
(El Financiero) He promised to give more details in January, but Bernal Aragón, general director of the Clínica Bíblica Hospital, confirmed the hospital center's interest in building a new branch in Guanacaste.

Read
December 26, 2008
Country is After Wealthy, Educated and Environment-friendly Tourists
(El Financiero) The fishing line is ready to be thrown out to the sea of international tourism and for the hook to attract a total of 14.2 million of Americans who are willing to travel to Costa Rica.

Read
December 25, 2008
Costa Rica Second Most Globalized Country in Latin America
(Inside Costa Rica) Most Latin American countries increased their roles in the world economy through trade, foreign investment, Internet penetration and other measures in 2007, according to a new report released by Miami-based Latin Business Chronicle.

Read
December 24, 2008
Tourism Board Puts Positive Spin on 2008
(The Tico Times) The Costa Rican Tourism Board (ICT) is painting 2008 as a good year, despite job losses and a downturn in visitation during the last quarter.

Read
December 23, 2008
Bush Clears Way for Costa Rica to Join CAFTA
WASHINGTON (Reuters) - President George W. Bush cleared the way on Tuesday for Costa Rica to formally join a regional free trade agreement between the United States, the Dominican Republic and four other Central American countries.

Read

» OUR LIVES
Weather: Mostly beautiful sunny weather with normal breezes.

Lita sponsored a party originally geared to her gym people. However she expanded it to included a number of residents. On the afternoon of Christmas Eve, she had 30 people gathered around the large pool where she had spring rolls, meat balls, roasted chicken, macaroni and cheese, a green salad, various snacks, and deserts (tres leches, banana raisin nut bread). Others supplied the beer........

Christmas: In addition to Lita's effort, we have a number of other events to which we have been invited and one which we will host in the afternoon of New Year's Eve. (a roast leg of lamb, Greek roasted potatoes and Greek salad).... Former tenants and continuing Texas Hold'em players will host a New Year's Eve party with beer can chicken at midnight on their terrace where we will have a 270 degree view of the many private and public fireworks displays.

Parrot: A week ago I was working in my office at the computer when I was startled by a loud bang on the window. next to me. A large dove had flown into it -- obviously he wasn't watching where he was flying. I took Lita down to pick it up hoping that it was only stunned. She tried CPR but I told her it wasn't going to help because it's neck was broken. At which point she picked it up, took it up to the parrot and said in effect: "See what can happen to you if you fly! Flying is dangerous. Sit in your tree and be happy!"

Friends Leave: A couple who had lived in CR for about 18 mo. and three months at Los Jardines were becoming friends. We enjoyed their company and conversation. She developed some heart concerns and his business was not developing the way he had hoped what with the financial turmoil. They decided to return to the States. We were sorry to see them go but fully understand.

Traffic: Traffic has decreased significantly this week--locals are either off work and / or at the beach. It's much easier to get around.

Tourism: A friend just returned from Manuel Antonio Park. Based on his assessment, there are substantially fewer tourists this year than at any other time he's been there. Few rooms occupied, fewer people on the beach, and fewer cars parked along the road and many of the restaurants, virtually empty. An owner flew from Fort Lauderdale to San Jose; according to him the flight was only 20% full. Jan returned from Granada and reported the same there. He is getting not getting calls for purchase and neither are his colleagues. One of our owners has charter fishing boat he operates from Los Suenos and a condo there. He has few charters booked and similarly rental nights for the condo.

Kirebe Construction: They've shut down for the holidays. It's nice to know what the future will be like when they build it out......quiet......

Time Out Tavern (Escazu) continues to serve up great fish and chips, hamburgers, and chicken wings +++.

Brian, Lita, Hugo, irreverent Vicka, the pigeon toed parrot, and the newbies — Chico and Chica.
Jan Kozak, Marketing Manager
Hacienda El Dorado
Rio Oro, Santa Ana
Costa Rica
Web: www.eldoradocostarica.com
E-mail: info@eldoradocostarica.com
MSN: jan.kozak.jr@hotmail.com
Skype: jan.kozak.jr
Tel (US) (+1) 647-477-5825
Cell: (+506) 8393-4666