Internet Resolved & Snowbirds Gather


» NOTES
When I started Residencias Los Jardines, I started writing a weekly news letter —determined to tell all the good, bad, and the ugly. I knew some readers would be interested in the construction process. I expected others might be interested in the lifestyle of two people who had decided to live outside the box. For others, the adventures of lita, the parrot and the cat took on an entertainment saga all its own.

Residencias Los Jardines is finished. We periodically have resales and rental availability. Some readers may be interested in this information.

More and more, the content will be dominated by events of our new project, "El Dorado" for short. While the future is always uncertain, I again aim to tell it like it happens —the good, the bad, and the ugly, and that is what follows.

In an effort to make the format more interesting and visually appealing and to field inquiries re. El Dorado, the news letter is now being distributed by Jan Kozak, Marketing Manager, Hacienda El Dorado. I will remain the author.
»MARKETING, WEBSITE & SALES
Sales: None this week.

Marketing: We have reduced our advertising presence in two magazines. We maintain a presence but we don't expect to sell much.
» CONSTRUCTION LOG

Permit Applications: Waiting--SETENA--D1--we wait and that will probably be the story until the end of January.

Construction: We continue to wait on the answer on our three construction requests--the bridge, a roadway, and a retaining wall. The government has shut down now; I don't expect to hear anything until mid January.

Water: We wait on a answer to our request to do a study which would tell us the specifications for delivery.
» RESIDENCIAS LOS JARDINES
Website Upgrade / Marketing: Photos of Residencias Los Jardines, the Santa Ana area and some of the houses are available on line at:

https://picasaweb.google.com/gardenresidencesresort

Internet Woes: We switched back to AMNET and that is where we expect to stay until ??????

Snowbirds: Two of our snowbirds arrived this past week and others are beginning to make their way here soon. Fortunately, we have been able to arrange for alternate accommodations on site for either them or their displaced tenants who they would like to keep. Other winter visitors will begin showing up as well.
Units for Sale/Lease: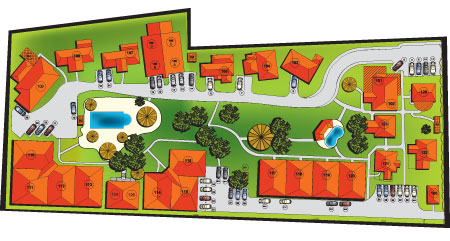 Unit #107 - For Sale/For Lease- REDUCED PRICE $239,000/$1,650

Total Area (Sq Ft): 1716
Total area (Sq M): 158
Bedrooms: 2
Bathrooms: 2.5
Floor(s): 2 Story
Type: Detached
Furnished: Yes

This 1,716 sf. (plus parking for one car) two story, detached house, with three terraces, two bedrooms (one on each floor) and upstairs master suite is a beautiful home. This home consists of two VERY large bedrooms (one on each floor) with en-suite bathrooms and a powder room, each with large closets with extensive built-ins for personal organization. The vaulted living room and ground floor bedroom ceilings as well as the master bedroom on the 2nd floor, provide a feeling of grandeur while allowing the warmer air to rise and exit through the ceiling ventilating system. There are three TVs (one in each bedroom and one in the living room.) This is a beautiful home. There is a rough-in for a dishwasher in the kitchen area.
Read More


» NEWS FROM COSTA RICA
If your browser does not support the hyperlinks below, you can view the COSTA RICA NEWS section on our website from the following URL:
» https://www.eldoradocostarica.com/English/News/index.php
December 19, 2008
Costa Rica Tops Old Record for Tourist Arrivals in 2008
The Biedron family from New Jersey received a grand welcome to Costa Rica this Wednesday, Dec. 17, as they were chosen to represent the arrival of the 2 millionth tourist to Costa Rica. Mark and Gretchen Biedron, who will be traveling in the country with their five children aged 8 thru 20 for two weeks, were met by Minister of Tourism Carlos Benavides and a large group of press and interested onlookers.

Read
December 18, 2008
Marina Papagayo opens in Costa Rica
(SuperYachtTimes.com) The new full-service, five-star Marina Papagayo was a thriving hub of nautical activity and excitement as mega-yachts began gliding into the docks at Costa Rica's finest luxury marina on the Pacific coast during its official opening Monday, Dec. 15.

Read
December 18, 2008
Costa Rica Gold Mine Threatens Rare Bird and River Water Supply
(Latin American Herald Tribune) CCT warns that open-pit mine will endanger the great green macaw as well as the San Juan River, which forms the country's border with Nicaragua.

Read
December 18, 2008
Costa Rica Remains a Top Choice for Travelers Wanting to Escape the Winter and Get the Most for Their Money
(ICT) With Options Ranging from Extreme Sports, the Best in Green Travel and One of the Most Biodiverse Places on Earth, Costa Rica is Sure to Deliver More Than Their Dollar's Worth

Read
December 18, 2008
Costa Rica Creates Ministry for Public Relations
(The Tico Times) President Oscar Arias is creating a new ministerial post to manage public relations for his administration, as a weakening economy threatens to erode his popularity.

Read
December 17, 2008
Costa Rica Promotes Greener Air Travel
SAN JOSÉ, Dec 17 (IPS) - Costa Rica is hoping for a big jump in its Clean Trips (Viajes Limpios) programme, which allows air passengers to offset the climate-changing gas emissions from their airplane flights by paying for activities that preserve the country's forests. By mid-November, 617 people (210 Costa Ricans and 407 foreigners) had compensated for the carbon emissions generated by their airplane travel. The initiative has been in place for just over a year.

Read

» OUR LIVES
Weather: Mostly beautiful weather with normal breezes.

Time Out Tavern: The last three weeks, the food has been disappointing. My fish and chips were not great--soggy batter and cold fries and Lita's salmon dishes weren't as good as previously. I switched to their hamburger ($7) and Lita again had their salmon dish. Both were excellent and those who had the fish and chips pronounced them as being back to their previous level of deliciousness. We're glad because we enjoy our gathering.

Villalobos "The Brothers" Case: I was actually contacted again by the government person in charge. Seems like there is an agreement which the government is asking all "victims" to sign before they agree to distribute the confiscated funds. I've asked that the agreement be sent me; we'll see. It's Christmas so it may take a while for that to happen.

Brian, Lita, Hugo, irreverent Vicka, the pigeon toed parrot, and the newbies — Chico and Chica.
Jan Kozak, Marketing Manager
Hacienda El Dorado
Rio Oro, Santa Ana
Costa Rica
Web: www.eldoradocostarica.com
E-mail: info@eldoradocostarica.com
MSN: jan.kozak.jr@hotmail.com
Skype: jan.kozak.jr
Tel (US) (+1) 647-477-5825
Cell: (+506) 8393-4666