Traffic !!! & A New Construction Project

» NOTES
When I started Residencias Los Jardines, I started writing a weekly news letter —determined to tell all the good, bad, and the ugly. I knew some readers would be interested in the construction process. I expected others might be interested in the lifestyle of two people who had decided to live outside the box. For others, the adventures of lita, the parrot and the cat took on an entertainment saga all its own.

Residencias Los Jardines is finished. We periodically have resales and rental availability. Some readers may be interested in this information.

More and more, the content will be dominated by events of our new project, "El Dorado" for short. While the future is always uncertain, I again aim to tell it like it happens —the good, the bad, and the ugly, and that is what follows.

In an effort to make the format more interesting and visually appealing and to field inquiries re. El Dorado, the news letter is now being distributed by Jan Kozak, Marketing Manager, Hacienda El Dorado. I will remain the author.
»MARKETING, WEBSITE & SALES
Sales: None this week.

Marketing: We have reduced our advertising presence in two magazines. We maintain a presence but we don't expect to sell much.
» CONSTRUCTION LOG

Permit Applications: Waiting--SETENA--D1--we wait and that will probably be the story until the end of January.
Construction: We continue to wait the answer on our three construction requests--the bridge, a roadway, and a retaining wall.

Water: We wait on a answer to our request to do a study which would tell us the specifications for delivery.
» RESIDENCIAS LOS JARDINES
Website Upgrade / Marketing: Photos of Residencias Los Jardines, the Santa Ana area and some of the houses are available on line at:

https://picasaweb.google.com/gardenresidencesresort

Internet Woes: I logged the speed from each service provider--Cable Tica and Amnet. It appears that AMNET is the better provider so we will be switching back to them next week.

New Video: A real estate company wanted a new image. The owner made a video of Los Jardines. You can see it at: https://www.youtube.com/watch?v=Po4utQhmyGY

Texas Hold'em: It continues with a growing group of attendees--usually around 8-9--which seems to make an nice game. Until the past couple weeks, the winner has been random with everyone claming bragging rights. However, over the past several weeks, one person has emerged as a more consistent winner. He's strutting and crowing--time will tell if he's just been lucky of if he's developed more skill than the others. Regardless, everyone has a good time

Shareholders Meeting: The annual shareholders meeting was held Saturday, Dec. 13. Various issues were discussed, resolutions made, and commitments made for the next year.
Units for Sale/Lease: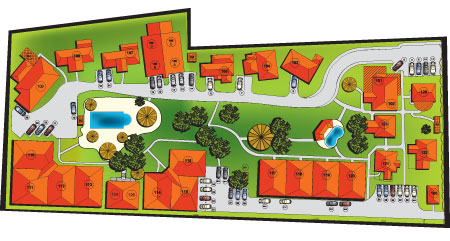 Unit #107 - For Sale/For Lease- $255,000/$1,650

Total Area (Sq Ft): 1716
Total area (Sq M): 158
Bedrooms: 2
Bathrooms: 2.5
Floor(s): 2 Story
Type: Detached
Furnished: Yes

This 1,716 sf. (plus parking for one car) two story, detached house, with three terraces, two bedrooms (one on each floor) and upstairs master suite is a beautiful home. This home consists of two VERY large bedrooms (one on each floor) with en-suite bathrooms and a powder room, each with large closets with extensive built-ins for personal organization. The vaulted living room and ground floor bedroom ceilings as well as the master bedroom on the 2nd floor, provide a feeling of grandeur while allowing the warmer air to rise and exit through the ceiling ventilating system. There are three TVs (one in each bedroom and one in the living room.) This is a beautiful home. There is a rough-in for a dishwasher in the kitchen area.
Read More


» NEWS FROM COSTA RICA
If your browser does not support the hyperlinks below, you can view the COSTA RICA NEWS section on our website from the following URL:
» https://www.eldoradocostarica.com/English/News/index.php
December 13, 2008
JetBlue to fly to Costa Rica
(USA Today) JetBlue announced plans Wednesday to begin service to Costa Rica, a route that would be the carrier's first to Central America. Starting March 26, JetBlue will begin flying one daily round-trip flight between Orlando and the Costa Rican capital of San Jose. The airline will use its 100-seat Embraer E190 jets on the route and will offer connecting service to San Jose from 14 cities, including New York, Bostonroute and will offer connecting service to San Jose from 14 cities, including New York, Boston, Washington and Austin.

Read
December 13, 2008
IMF Will Grant Credit to Costa Rica If Needed
(The Tico Times) In a visit to Costa Rica yesterday, International Monetary Fund director Dominique Strauss-Kahn said the fund would grant as much credit to Costa Rica as the country needs to weather a global financial crisis.

Read
December 13, 2008
New Front Could Cool Costa Rica
(The Tico Times) Another cold front could hit Costa Rica this weekend, bringing cooler temperatures, high winds and some rain, but nothing like the kind that recently devastated the Caribbean region, according to meteorologist Estefania Jiménez.

Read
December 10, 2008
French Regatta Picks Costa Rica for Finish Line
(The Tico Times) Costa Rica is set to be the ligne d'arrivée for the Transat Jacques Vabre 2009, France's world-class boat race that launches next November.

Read
December 08, 2008
Flirt with Change in Cell Phones and Internet
(El Financiero) Seven out of ten Costa Rican users are flirting with the idea of changing to one of the new operators that will enter the market with the opening up of telecommunications.

Read

» OUR LIVES
Weather:
Mixed bag: Some light rains with fair amount of overcast; light breezes.--some sunshine in the mornings.

Ingenious Ticos:
When in the CR equivalent of the IRS last week, a curious thing happened: To get served in order, you pull a number upon arrival and then wait for your number to be called. The numbers are from 1-99. When we arrived we drew 27 and they were serving 86. As the IRS representatives finished their clients and rolled the numbers forward, several times more than one person arrived at the service window. Each claiming and actually showing the number called. How could this have happened? Answer: when a person arrives, they see the number being served and the number they would get to be in the quay. If they didn't like that, they pulled through all the numbers and drew one just in front of the number being served. Just another example of the culture--if you can get away with it, do it.
Parrot:
Vicka flew out of her bird sitting tree and into the house nearby. Scared the living hell out of the occupant. Lita was called to the rescue.

New Construction Project-Pozos:
For the past month, a wall and small building have been under construction along the section of the road linking Santa Ana to Belen. This section is now being called "The Platinum Mile". Last Sunday, signage went up on the wall with a link to a website: www.triotower.com This is to be a 10 story multi use building--commercial space --offices, restaurants, spa, etc. and residential on the upper 5 levels--being a condo hotel with heliport pad on the top. The website implies that when the entire project is finished, there will be more than one tower. This area just doesn't stop growing and the world financial maelstrom doesn't seem to have hit here.
Traffic:
Traffic congestion continues to be a real problem. Certainly this condition is aggravated by the continuous construction works on the autopista (highway) as a result of the upgrading of that artery as part of the new Caldera highway currently under rapid construction. In addition, this is "aguinaldo" month and people are out spending their bonus. Traffic is always bad on Fridays--this past Friday was gridlock chaos as one can only experience in CR.
Brad's Grill:
I know George Bradbury and the manager, John Hepner. George opened a sports bar / restaurant in the new Millennium Mall near us. We tried it out on Tuesday. he group had three hamburgers, two orders of ribs and nachos. All dishes were "good" to "very good" but pricey. The basic burger was $11, ribs $25, and nachos $7. Certainly the place is nice and service was good. We'll go back but I doubt that it will become like the Time Out Tavern has for us--a weekly event. We wish him / them well and feel they will do fine.
Time Out Tavern:
The last three weeks, the food has been disappointing. My fish and chips were not great--soggy batter and cold fries and Lita's salmon dishes weren't as good as previously. I switched to their hamburger ($7) and Lita again had their salmon dish. Both were excellent and those who had the fish and chips pronounced them as being back to their previous level of deliciousness. We're glad because we enjoy our gathering.

Villalobos "The Brothers" Case:
In early 2002, I, like a lot of others at the time, placed money with an organization known euphamistically as "The Brothers". This organization had, for the previous 20+ years paid 3% interest monthly on deposits paid in cash. While there were various stories about what they did to be able to pay those rates, no one really knew but I heard so many great stories that public relations specialists couldn't have possibly created. I placed $40K of risk capital with them.Three months later, the company was shut down as a result of a government raid. Various accusations flew back a forth. The government urged investors to launch legal action; other groups urged investors not to arguing that all would be made good. Three of us duly filed charges with the government. Earlier this year, a decision was reached in the case. One of the brothers was found guilty and the other has disappeared.For some reason, the two other investors with whom I filed (separately but at the same time in the same building) were not on the list of beneficiaries. Why? I and they don't know but my name was there. Currently a proposal for partial payout has been proposed; I was actually contacted this week by the government represantative stating this and promising to contact me with the exact proposal which I needed to sign (actually all parties need to sign--this requirement is unlikely to happen since it is likely that some have died, others will have different addressess or contact points, etc. than given in 2002). We'll see. I'm not rushing to spend what I haven't yet recovered.
Re. my assessment of the whole situation: I still have a very healthy level of skepticism that the real story has yet been told.....I have this little voice in the back of my head saying there were dirty hands by those perpatrating the closure and there are some organizations which are unusually silent. Whether it was a ponzi scheme or not, will remain an open question with me until the little voice goes silent.
Brian, Lita, Hugo, irreverent Vicka, the pigeon toed parrot, and the newbies — Chico and Chica.
Jan Kozak, Marketing Manager
Hacienda El Dorado
Rio Oro, Santa Ana
Costa Rica
Web: www.eldoradocostarica.com
E-mail: info@eldoradocostarica.com
MSN: jan.kozak.jr@hotmail.com
Skype: jan.kozak.jr
Tel (US) (+1) 647-477-5825
Cell: (+506) 8393-4666