Internet Woes

» NOTES
When I started Residencias Los Jardines, I started writing a weekly news letter —determined to tell all the good, bad, and the ugly. I knew some readers would be interested in the construction process. I expected others might be interested in the lifestyle of two people who had decided to live outside the box. For others, the adventures of lita, the parrot and the cat took on an entertainment saga all its own.

Residencias Los Jardines is finished. We periodically have resales and rental availability. Some readers may be interested in this information.

More and more, the content will be dominated by events of our new project, "El Dorado" for short. While the future is always uncertain, I again aim to tell it like it happens —the good, the bad, and the ugly, and that is what follows.

In an effort to make the format more interesting and visually appealing and to field inquiries re. El Dorado, the news letter is now being distributed by Jan Kozak, Marketing Manager, Hacienda El Dorado. I will remain the author.
»MARKETING, WEBSITE & SALES
Sales: None this week
» CONSTRUCTION LOG

Permit Applications: Waiting--SETENA--D1--we wait and that will probably be the story until the end of January.
Construction: We are still waiting for the detailed design of the retaining wall / back wall of the Maya Tower. However, the consultant has submitted to the various agencies, sufficient information which, if approved, would allow a decision to be made for us to proceed to install a number of things. We are waiting for the results of that request.
Water: We are advised that the process is the following: A request is made to the head office of AyA (we did this Nov. 4 and they lost the request twice). From there, it is sent to a regional office (Santa Ana) where it is reviewed and ?????? and then sent back to the head office which then sends it to the Municipal office. This is December. Virtually nothing gets done in government from mid December to mid January. We wait.
Municipal Roadway:
I understand that the City has said, in effect, when it collapses, we'll fix it.
» RESIDENCIAS LOS JARDINES
Website Upgrade / Marketing: Photos of Residencias Los Jardines, the Santa Ana area and some of the houses are available on line at:

https://picasaweb.google.com/gardenresidencesresort
Internet Woes:
Where to start this story? For three plus months, we have had very poor service from CableTica. Their standard response when we contacted them was to deny culpability. After exhausting all options, we decided to switch to AMNET when they became operational in our area. This was scheduled for a Saturday (they didn't show) and came Tuesday when I wasn't here. The service was supposed to be hooked to the office router for use by all houses. It wasn't; only to the office computer. (I didn't know this) When I returned from Nicaragua, I received many a hoisted glass for such great service to which I credited AMNET. This week one of our wireless access points crapped out. The repair person came and replaced it. In that conversation, I learned that we still had CableTica for the site and AMNET was only servicing the office. After this shock I had to ask why then, had the CableTica service been so great this past week. Answer--they did something to upgrade their service--perhaps kicked in some amplifiers or ?????? Regardless, I was so angry at them, I just wanted them out of my sight so on Thursday night, we took the equipment out of service to switch the site service over to AMNET. Friday morning was filled with complaints. It seems that we had gone back a step--AMNET was not performing as well as CableTica had the week before--our VOIP phones were unreliable and the speed was noticeably slower. As of now, we are monitoring AMNET performance on an hourly basis. We have a meeting scheduled to possibly return to CableTica on Tuesday night if the AMNET service doesn't improve.
New Property Tax Law:
We reviewed the law as written; the implementation rules and regulations are not yet written. Based on the way we read it and based on the information which is on file with the Municipal office, we feel the new property tax surcharge will not apply to us. We believe the tax authority will view us as 29 individual homes and evaluate accordingly vs. as one structure.
De-registration with IRS Costa Rica:
This is great. Doneste S.A. owns the land and all the improvements at Residencias Los Jardines. A property management company, Residencias Property Management S.A. administers all the houses and remits to Doneste S.A. any surpluses. (So far there hasn't been any as our goal is to just break even on an operating basis (depreciation always takes us into a loss). Doneste really has no commercial activity (it's really a holding company) and for tax purposes, it is an inactive company. We de-registered it from the IRS--Costa Rica. We do not now have to file any report with them. We will still have financial statements as the property management company needs to report the the shareholders of Doneste.
Shareholders Meeting:
The info. was sent out to all shareholders. It will be held Dec. 13 at 1pm.
Units for Sale/Lease: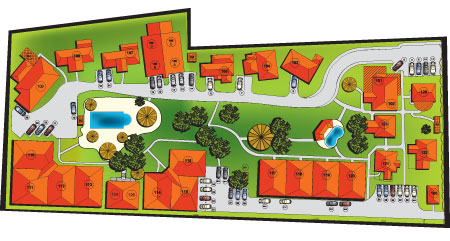 Unit #107 - For Sale/Leased - $255,000

Total Area (Sq Ft): 1716
Total area (Sq M): 158
Bedrooms: 2
Bathrooms: 2.5
Floor(s): 2 Story
Type: Detached
Furnished: Yes

This 1,716 sf. (plus parking for one car) two story, detached house, with three terraces, two bedrooms (one on each floor) and upstairs master suite is a beautiful home. This home consists of two VERY large bedrooms (one on each floor) with en-suite bathrooms and a powder room, each with large closets with extensive built-ins for personal organization. The vaulted living room and ground floor bedroom ceilings as well as the master bedroom on the 2nd floor, provide a feeling of grandeur while allowing the warmer air to rise and exit through the ceiling ventilating system. There are three TVs (one in each bedroom and one in the living room.) This is a beautiful home. There is a rough-in for a dishwasher in the kitchen area.
Read More


» NEWS FROM COSTA RICA
If your browser does not support the hyperlinks below, you can view the COSTA RICA NEWS section on our website from the following URL:
» https://www.eldoradocostarica.com/English/News/index.php
December 04, 2008
Costa Rica Can Weather Economic Storm, Says Former Finance Chief
(The Tico Times) Costa Rica is in a good position to weather the global recession that many believe will last well into next year, says noted economist and former Finance Minister Fernando Naranjo.

Read
December 04, 2008
Developers Protest Coastal Closures in Costa Rica
(The Tico Times) Developers angered over the closure of construction projects for alleged environmental violations planned to block the coastal highway today on the southern Pacific coast.

Read
December 03, 2008
Costa Rica Poker Site Caught Bluffing
(The Tico Times) An online gambling site that operates out of a shopping mall in Costa Rica has been embroiled in a cheating scandal, according to an investigation by the daily Washington Post and the TV program, 60 Minutes.

Read
December 03, 2008
Costa Rica Intelligence Chief Resigns Over Scandal
(The Tico Times) The highest-ranking intelligence officer in the Arias administration resigned yesterday over a scandal involving bank frauds worth $380,000.

Read
December 02, 2008
Costa Rica Celebrates Farewell to Arms
(The Tico Times) Sixty years after abolishing its military, Costa Rica is promoting an ideology abroad that defense spending should instead fund social programs. B ut the country is not doing enough at home to keep the peace, according to Karen Olsen de Figueres, second wife of the man who famously disbanded Costa Rica's armed forces in 1948, President José "Pepe" Figueres.

Read
December 02, 2008
New Rules Limit Costa Rican Offshore Bank Operations
(Costa Rica Pages) The Superintendent General of Finances (SUGEF) intends to pass a bill on December 18th highly limiting the operation of offshore banks in Costa rica. Such banks are considered to be foreign owned banks existing in Costa Rica that license their banking to a Costa Rican organization. Until now, these banks enjoyed a large amount of freedom in setting their own interest rates and were not obligated to pay a large tax to the Banco Central de Costa Rica, as national banks are.

Read
December 02, 2008
Costa Rica, Singapore Start Trade Talks
SAN JOSE, Costa Rica (AP) — Costa Rican President Oscar Arias is in Singapore to start talks on a bilateral free trade agreement.

Read
December 02, 2008
Ten Dead, Thousands Hit as Rains Lash Panama, Costa Rica
GENEVA (AFP) — Over 36,000 people have been affected by heavy rains and severe floods in Panama and Costa Rica since late November, the International Red Cross said Tuesday as it launched an appeal for aid funds.

Read
December 01, 2008
Costa Rica Residents Return to Their Homes as Rains Subside
(The Tico Times) Over 4,600 people returned to their homes this week, while another 1,400 remained in shelters as the flooding and torrential rains subsided in Costa Rica's Caribbean areas.

Read
December 01, 2008
U.S. Dollar Devalues in Costa Rica as Year-end Payments Kick in and Oil Prices Decline
(EFE) Year-end expenses incurred by businesses and the fall in the price of raw materials, including oil caused the U.S. dollar's value against the colón to drop to its lowest value in over four months.

Read

» OUR LIVES
Weather: Mixed bag: Some light rains with fair amount of overcast; light breezes.--some sunshine in the mornings.
Thanksgiving:
The only substantial rain we've had in a month happened on Sunday--the day scheduled for a Thanksgiving party of 30+ people. We relocated it from the pool to our house--It went from 2 to midnight. I've never thrown away so many empties from one party in my life. Lots and lots of food; great laughs, and all left full, overly happy and many slightly to very drunk.......
Brian, Lita, Hugo, irreverent Vicka, the pigeon toed parrot, and the newbies — Chico and Chica.
Jan Kozak, Marketing Manager
Hacienda El Dorado
Rio Oro, Santa Ana
Costa Rica
Web: www.eldoradocostarica.com
E-mail: info@eldoradocostarica.com
MSN: jan.kozak.jr@hotmail.com
Skype: jan.kozak.jr
Tel (US) (+1) 647-477-5825
Cell: (+506) 8393-4666