Waiting.....

» NOTES
When I started Residencias Los Jardines, I started writing a weekly news letter —determined to tell all the good, bad, and the ugly. I knew some readers would be interested in the construction process. I expected others might be interested in the lifestyle of two people who had decided to live outside the box. For others, the adventures of lita, the parrot and the cat took on an entertainment saga all its own.

Residencias Los Jardines is finished. We periodically have resales and rental availability. Some readers may be interested in this information.

More and more, the content will be dominated by events of our new project, "El Dorado" for short. While the future is always uncertain, I again aim to tell it like it happens —the good, the bad, and the ugly, and that is what follows.

In an effort to make the format more interesting and visually appealing and to field inquiries re. El Dorado, the news letter is now being distributed by Jan Kozak, Marketing Manager, Hacienda El Dorado. I will remain the author.
»MARKETING, WEBSITE & SALES
Sales: None this week
» CONSTRUCTION LOG

Permit Applications: Waiting--SETENA--D1--we wait and that will probably be the story until the end of January.
Construction: Waiting--We have all the sketches of the bridge, retaining wall, and the culvert discharge needed to submit for preliminary approval. That will be done next week. Included in this will be the design for the river crossings of the perimeter fence.
Water: Waiting -- We have not received a reply re. our request for a study to be done to give us the technical specifications needed to start a conversation with AyA. We have re-submitted the request with a fax number--maybe that will make a difference. We will wait until Tuesday and if we've heard nothing, we will send them a reminder and wait until Friday. If we still haven't heard we will notify them that they are in breach of their responsibility to respond within a given time limit which they will have exceeded at that point in time.
Two Disasters:
Re. the undermining of the public roadway--the City continues to do nothing. I suspect it will take an accident for them to move on it. Re. the culvert washout: all the materials are on site. The backhoe operator was ill most of the week so we will begin on Monday. It should take about a 10 days.
Maya Tower:
We are going to use the back wall of the Maya Tower to support the excavated hill. Originally, the back wall as to be three cantilevered sections. While focusing on building the wall, now for retaining purposes, Paul felt that the cost of the cantilevered design was more than a strait wall. Thus, we are redesigning that back wall and the additional space gained on the parking level and first two residential levels, will go for additional parking, storage, or a combination of both. We are still in the process of working all this out but it can be expected that we will continue to make these type of changes as we focus on specific issues. We know that both storage space and parking are coveted items.
Building Costs:
Paul was talking with the owner of one of our main suppliers -- ConstruPlaza. He confirm what I expected to happen, that the cost of building materials is decreasing. While it is too soon to know what will happen, Paul and I are hoping it continues. We had built in an inflation factor but that had been eaten up and the increased costs were now cutting into our bottom line.
» RESIDENCIAS LOS JARDINES
Website Upgrade / Marketing: Photos of Residencias Los Jardines, the Santa Ana area and some of the houses are available on line at:

https://picasaweb.google.com/gardenresidencesresort
Unit 123: Leased
Unit 107: The new tenants moved in.

Rental Market: We continue to have more demand than we have space.
Texas Hold-em: Started up to the delight of the players.
Garden: We're switching over from rainy season to dry season. There are a number of places that grass died due to too much water and or too little light. We've thinned the branches in some cases, added soil and replaced the sod. I'll have to teach the new gardener and mtnc. person how to use the sprinkler system.
Cable TV:
AMNET internet is suppose to be installed Saturday, Nov. 15. We'll see. Our new tenant in 107 is quite handy with a computer. He determined in 5 min. what we suspected all along--we are getting less that 1/3 of what we are paying for and that this speed does not support reliable VOIP and in his case, does not support a stable connection to his employer in San Francisco. Hopefully, the change to AMNET will solve this.
New Property Tax Law:
A new law meant to apply to expensive homes. "Expensive" is defined as being in excess of $182,000. Supposedly the value applies to the building, not the land. While the tax is graduated--the more expensive the house, the higher the tax rate. The money generated is to go towards building low income housing. (While a worthy cause, personally, I remain skeptical it will actually be spent this way, but .......) Regardless, we anticipate a challenge explaining the intent of the law vs. our organizational structure -- one in which all the buildings are owned by a corporation and the shareholders own the houses. While the law was meant to apply to individual houses, the fact that the property and all houses thereon are owned by the corporation makes this a challenge. If we can't dodge this, it will mean an additional tax of $3,050 according to our calculations. We'll see.
Shareholders Meeting:
The info. was sent out to all shareholders.
Units for Sale/Lease: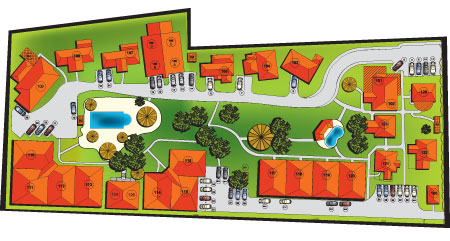 Unit #107 - For Sale/Leased - $255,000

Total Area (Sq Ft): 1716
Total area (Sq M): 158
Bedrooms: 2
Bathrooms: 2.5
Floor(s): 2 Story
Type: Detached
Furnished: Yes

This 1,716 sf. (plus parking for one car) two story, detached house, with three terraces, two bedrooms (one on each floor) and upstairs master suite is a beautiful home. This home consists of two VERY large bedrooms (one on each floor) with en-suite bathrooms and a powder room, each with large closets with extensive built-ins for personal organization. The vaulted living room and ground floor bedroom ceilings as well as the master bedroom on the 2nd floor, provide a feeling of grandeur while allowing the warmer air to rise and exit through the ceiling ventilating system. There are three TVs (one in each bedroom and one in the living room.) This is a beautiful home. There is a rough-in for a dishwasher in the kitchen area.
Read More


» NEWS FROM COSTA RICA
If your browser does not support the hyperlinks below, you can view the COSTA RICA NEWS section on our website from the following URL:
» https://www.eldoradocostarica.com/English/News/index.php
November 14, 2008
Rich Collection of Costa Rican Flora Hits the Web
SAN JOSE (AFP) — Costa Rica's National Herbarium announced Thursday it had launched a website with information on 95 percent of the country's plant species -- some 220,000 specimens.

Read
November 14, 2008
Protesters Blocking Princess Cruise Ship from Docking in Costa Rica
(USA Today) - The Coral Princess this week was blocked from calling in Costa Rica for a third time by fishermen protesting new regulations.

Read
November 14, 2008
Hu Visit Marks China's Growing Interest in Latin America
SAN JOSE (AFP) — Chinese President Hu Jintao begins a Latin America tour on Monday, taking in Costa Rica, Cuba and Peru, as China tightens economic ties and the region hopes for help in tougher times.

Read
November 13, 2008
Costa Rica Telecom Gives Prepaid Cell Phones a Trial Run
(The Tico Times) Costa Rica's state telecommunications company has launched a pilot plan for the long-awaited prepaid cell phone program that will ultimately be extended to non-residents, the Costa Rican Electricity Institute (ICE) said.

Read
November 13, 2008
Costa Rica Passes Final Bill Needed for CAFTA
(The Tico Times) Costa Rica has cleared the last hurdle to joining the Central American Free-Trade Agreement with the United States (CAFTA).

Read
November 13, 2008
Betancourt's Ex-husband is the New French Envoy to Costa Rica
SAN JOSE, Costa Rica (The Associated Press) - The ex-husband of former guerrilla-held hostage Ingrid Betancourt is France's new ambassador to Costa Rica.

Read
November 12, 2008
Costa Rica Remembers Armistice Day
(The Tico Times) War veteran and Costa Rica are not often mentioned in the same conversation.

Read
November 11, 2008
E-mail May Compromise Witness ID in Costa Rica Murder Case
(The Tico Times) A widely circulated e-mail may have compromised a critical part of the prosecution's case against two suspects in the murder of a White House Casino dealer.

Read
November 11, 2008
Costa Rica Min: Ready to Begin China Free-Trade Talks
SAN JOSE (AFP)--Costa Rica is prepared to negotiate a free trade deal with China next year, the foreign trade minister said here Monday ahead of a visit by Chinese President Hu Jintao next week.

Read
November 11, 2008
Ending 4-Year Battle, Costa Rica Approves CAFTA
SAN JOSE, Costa Rica (AP) — Costa Rica is finally ready to join the Central American Free Trade Agreement.

Read
November 10, 2008
Stallone to Shoot "The Expendables" in Costa Rica
(The Tico Times) Sylvester Stallone is bringing his next action project, "The Expendables," to Costa Rica, according to The Hollywood Reporter.

Read

» OUR LIVES
Weather: The weather continues through this transitional phase. Mostly dry with little rain.
Lita and the Parrot:
Lita keeps checking her phone messages waiting for a representative from Quaker Oats marketing department to phone but so far she's been disappointed. Perhaps her reputation of being difficult to work with has preceded her.
Budgie Eggs:
The budgies have laid 4 eggs. While this has happened various times in the past, all the eggs got broken because she couldn't see them. Because we didn't have any set up for their nesting, we've had to create one and to move their eggs. I don't think they will have anything to do with them now but, again, we'll see.
Baby red squirrel:
One fell out of the tree / nest and was about to be attacked by a resident's cats. The gardeners saved the little guy who was unharmed. Despite our efforts to feed him formula with an eye dropper, he died.
Granada:
On Monday we are off to Granada to return on Friday. Lita's been talking this up for the last month. The other day she slipped me some $$ with the express statement that it is to be used at our favorite steak place. This time, we will be meeting friends there. They have never been before although they are long term residents of CR. We hope they enjoy it as much as we do.
Loans to Employees:
Periodically we are asked by our employees for a loan. In the past we have usually done it but not loaning more than we owe them in either aguinaldo or vacation pay. In some cases, eg. with the Maestro de Obra, we have loaned more than we have in reserves.....in effect an advance on a bonus. All have worked out o.k. We were recently asked for a substantial loan ($4,000) such that our key employee at Los Jardines could buy a van owned by the maestro de obra. We figured out how to secure the loan and the payment schedule and did it. The paperwork was horrendous but it's done. We get nothing from these deals since the money is loaned interest free. Hopefully, we secure a good work force. They would be hard pressed to get loans from anywhere, especially in this financial climate.
Time Out Tavern:
Now here is a restaurant / business that looks after their customers. A group of us (12 +/-) have been going on Friday nights for their special--fish and chips. Their fryer broke and as of Friday had not been repaired. The owners/managers immediately approached us with this disappointing news. Well, thats life in CR--we carried on anyway. They bought the first round of drinks and gave us what we feel were extra large portions of whatever we ordered.
Brian, Lita, Hugo, irreverent Vicka, the pigeon toed parrot, and the newbies — Chico and Chica.