One More Sale & A Deal w/the Devil

» NOTES
When I started Residencias Los Jardines, I started writing a weekly news letter —determined to tell all the good, bad, and the ugly. I knew some readers would be interested in the construction process. I expected others might be interested in the lifestyle of two people who had decided to live outside the box. For others, the adventures of lita, the parrot and the cat took on an entertainment saga all its own.

Residencias Los Jardines is finished. We periodically have resales and rental availability. Some readers may be interested in this information.

More and more, the content will be dominated by events of our new project, "El Dorado" for short. While the future is always uncertain, I again aim to tell it like it happens —the good, the bad, and the ugly, and that is what follows.

In an effort to make the format more interesting and visually appealing and to field inquiries re. El Dorado, the news letter is now being distributed by Jan Kozak, Marketing Manager, Hacienda El Dorado. I will remain the author.
»MARKETING, WEBSITE & SALES
Sales: We have one additional sale (Ponce) from a California lady. She's buying it the old fashioned way...she saved. The Ponce design has been very popular with our purchasers. It hits a good price range and having 5 floor plans (and a few others we can create) it offers lots of flexibility for our target market. It is the original design (with a few modifications) planned for Residencias Los Jardines but in the end, the buildings didn't fit well and were more expensive than I wanted to build for this development.
» CONSTRUCTION LOG

Permit Applications:
All paperwork has been submitted to SETENA for the D1 application process. This is an overall environmental, sociological, anthropological, archaeological and who knows what else assessment of the development. It normally takes at least four months. It's taken a lot of paperwork to get to this stage but it is one of the necessary reviews. Our consultant will be monitoring it and addressing any questions this are asked.
Water:
The rules of the game have changed. Instead of moving the goal posts, they've changed the game. "They" seems to be the ministry responsible for natural resources--in this case, "water". As I've stated previously, it is my understanding that 23 different governmental organizations have some aspect of involvement in "water". Under that regime, the management of water in CR was abysmal--I don't think that statement is too controversial from objective people. It is my understanding that the government has now decreed that all underground water is under the jurisdiction of AyA--the country's potable water supplier. It seems that AyA really doesn't want to give out well concessions. It is also my understanding that many well concessions previously issued under MINEA (now MINEAT) will be rescinded. Our well concession application will not be granted because according to AyA's interpretation of existing laws if AyA can supply the site with water, developers need to use AyA water. (They currently supply us with one 1/2" unreliable, dirty water supply.) If the development needs more water than AyA can supply, it is the developer's responsibility to upgrade AyA's system. In return, AyA will let the developer use their water (charged at the normal rate). In broad conceptual terms, in our case this interpretation means that we will have to find a piece of land near the main roadway, put in a pumping station, run a line (6" ?) the 1 1/2 kl. to our land and then on beyond our land a 1/2 kl. to AyA 's leaky reservoir We'll have to hook up some AyA customers along our 1 1/2 kl. route and the balance of the water goes to AyAs leaky system for the community. We will be allowed to hook directly to our supply line. We have instructed our consultant and engineer to negotiate with AyA to see what can be done. It would be nice to get the City to donate the land, AyA to build the pumping station, and we would agree to put in the pipe but both of the former "wants" are NOT likely to happen--they have us over a barrel, AyA doesn't have any money, and by the time it would take for either AyA or the City to move on either of these two issues, we would be on life support systems. While there are lots of details yet to be determined, we now hold our noses and take an extra dose of "patience" and see what the best deal is we can get.
Sick Tree....It's still struggling....
Landscaping: I'm taking possession of another 10 seedlings of another tree with red tulip-like flowers.
Chain Link Fence: We've basically completed all we can for now. We need a design for the fence crossing the river in two locations. We cannot continue the chain link (cyclone) fence to within 10 m of the river on either side. Supposedly the reason for this is that land within 10 m of a river is "public domain". This means the property perimeter would not be secured. While others all over the country take the fence to the river and then over the river, we are not allowed to---go figure!. Our response will be--and we have confirmed this--we can plant things. Therefore, we will plant large bamboo which grows very fast, is impenetrable and will provide a tropical ambiance. When grown, probable a couple years, it will actually afford better protection than the fence alone.
Note:
It's continued to be financially tortuous turmoil in the US for another week. The effects of this is long from over but let's continue to hope that the future looks brighter in May.
» RESIDENCIAS LOS JARDINES
Website Upgrade / Marketing:
Photos of Residencias Los Jardines, the Santa Ana area and some of the houses are available on line at:
https://picasaweb.google.com/gardenresidencesresort
All pictures have now been changed to current images.
Drainage System:
No heavy rains yet to test under actual conditions.
Kirebe:
This continues to be a case of keeping on the consultant to keep on the City. A meeting is now suppose to occur next week. In addition to this, 4 times in the last week, their VERY LOUD security alarm has gone off---between midnight and 6 am.....usually takes about 15-30 min. for someone to come and disarm it. They don't care; they don't live here. We'll see.
VOIP Phones:
This continues to be a problem. We have now bought the maximum bandwidth offered by the service provider. It hasn't changed the Vonage phone performance. Paul has spent several hours working with RACSA who continue to deny it is their problem or any equipment they have supplied to us, i.e. the modem. We were going to bring in some technical people to again try and determine if it is our side of the equipment divide. But recent reports on the internet suggest it may be a country wide issue. From our perspective, it just seems strange to us that this problem started when they completed the re-wiring in the area. Did they hook up a bunch of other subscribers to the line and we are now victims of over loading the service???? My guess, but we'll continue to investigate. On Monday, we have two technicians who will do a house by house and item by item analysis to see if the problem is caused by any on-site equipment. I'll be surprised if it is but we need to be 100% sure.
Cable TV:
AMNET is moving into the area to compete with CableTica. We are exploring connections with them. In the last month or so, it seems that CableTica has dumped several English language stations, including CNBC. Since we now seem to get only about 3 English stations (down from 6-7) it's time to start exploring options.
Satellite TV
: The new 3m dish was installed as schedule by Dr. Dish. It was up and running in a couple hours. So far, it has provided a strong, stable signal.
Sale--Unit 120:
We had a person interested in purchasing -- price was acceptable but one issue could not be resolved. So, it remains on the market.
Units for Sale/Lease: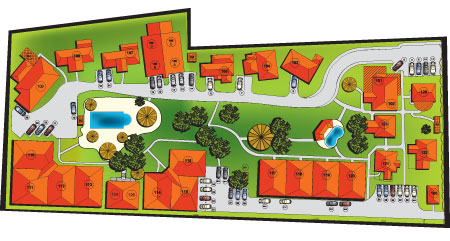 Note: For the past 18 months, we have been anticipating the sale of units 108 and 120. We have now been instructed to sell both. See below:

Unit #107 - For Sale
Total Area (Sq Ft): 1716
Total area (Sq M): 158
Bedrooms: 2
Bathrooms: 2.5
Floor(s): 2 Story
Type: Detached
Furnished: Yes

This 1,716 sf. (plus parking for one car) two story, detached house, with three terraces, two bedrooms (one on each floor) and upstairs master suite is a beautiful home. This home consists of two VERY large bedrooms (one on each floor) with en-suite bathrooms and a powder room, each with large closets with extensive built-ins for personal organization. The vaulted living room and ground floor bedroom ceilings as well as the master bedroom on the 2nd floor, provide a feeling of grandeur while allowing the warmer air to rise and exit through the ceiling ventilating system. There are three TVs (one in each bedroom and one in the living room.) This is a beautiful home. There is a rough-in for a dishwasher in the kitchen area.
Read More


» NEWS FROM COSTA RICA
If your browser does not support the hyperlinks below, you can view the COSTA RICA NEWS section on our website from the following URL:
» https://www.eldoradocostarica.com/English/News/index.php
October 04, 2008
Costa Rica: Fly for $27
(Canwest News Service) NatureAir, a Costa Rican airline, is offering tickets to anywhere it flies in Costa Rica for just $27.

Read
October 04, 2008
UK: Meg Munn visits Costa Rica and Mexico
(Isria.Info) Foreign Office Minister, Meg Munn, travelled to Costa Rica and Mexico for discussions on a range of subjects including climate change and human rights.

Read
October 03, 2008
Costa Rica's Annual Inflation Hits 10 Year High
(Inside Costa Rica) Costa Rica's accumulated inflation between September 2007 and September 2008 reached 15.77%, the highest year-on-year figure for the last 10 years, the Instituto Nacional de Estadística y Censos (INEC) - National Institute of Statistics and Census -said on Thursday.

Read
October 02, 2008
BlackBerry Bursts into Costa Rica Market
(The Tico Times) The Costa Rican Electricity Institute (ICE) and Canadian company Research In Motion (RIM) have announced an agreement to introduce BlackBerry handheld wireless service in Costa Rica.

Read
October 02, 2008
Costa Rica Consumer Confidence Keeps Falling
(The Tico Times) The dropping value of the colón versus the U.S. dollar, mixed with rising prices, has driven consumer confidence down in recent months, according to a quarterly study by GfK The Marketing Group, a German multinational research firm.

Read
October 01, 2008
Costa Rica Gets Extension on CAFTA
(The Tico Times) Costa Rica has three more months to pass legislation required to enter the Central American Free-Trade Agreement with the United States (CAFTA).

Read
October 01, 2008
100 Seek Shelter in Churches Amid Peak Rainy Season in Costa Rica
(The Tico Times) A hundred Costa Ricans fled their drenched homes for refuge in dry shelters after heavy rains earlier this week and amid forecasts for more precipitation as the peak rainy season heads into its second month, the National Emergency Commission (CNE) said yesterday.

Read
October 01, 2008
Costa Rican VP Chinchilla Expected to Resign
(VOA News) Reports from Costa Rica say Vice President and Justice Minister Laura Chinchilla is expected to resign in the coming weeks to seek the presidency in 2010 as a candidate of the National Liberation Party, or PLN.

Read
September 30, 2008
Guanacaste Pro Golf Tournament Now Called Costa Rica Golf Classic
(Infocom) — Less than three months away from having the best professional golfers in the Tour de las Americas (TLA) and the Canadian Tour come to Guanacaste to take part in the high-caliber tournament that will put Costa Rica back on the world golf map, local tournament organizers announced that the tournament's official name has changed to Costa Rica Golf Classic.

Read
September 30, 2008
Investors sought for 'Costa Rica Forever' conservation initiative
(Infocom) — During the recent visit by Costa Rican President Oscar Arias to the United Nations in New York, Mark Linden, of the Linden Trust for Conservation, invited the pro-environment leader to share with investors seeking to support initiatives for preserving nature.

Read
September 30, 2008
U.S. Economic Crisis Affects Costa Rica Investments
(Costa Rica Pages) It's the new shot heard round the world: when the U.S. Congress rejected the proposed $700 billion Wall Street bailout, aftershocks were felt in every country around the globe.

Read
September 29, 2008
Chinatown to Hit Costa Rica
(Costa Rica Pages) Over the past year China and Costa Rica have been enjoying excellent relations following Costa Rica establishing diplomatic ties with Beijing in the place of its former partner Taiwan.

Read
September 29, 2008
For Costa Rican President Venezuelan Cooperation Prevails Over US Aid
(El Universal/Politics) Óscar Arias, the president of Costa Rica, said on Monday that Venezuelan cooperation to Latin America is "four or five times" higher than the United States' and defended his decision to apply for membership in Venezuela's Petrocaribe initiative.

Read
» OUR LIVES
Weather:
October is beginning to live up to it's reputation as being very wet.
Brian, Lita, Hugo, irreverent Vicka, the pigeon toed parrot, and the newbies — Chico and Chica.