Moving the Goal Posts at El Dorado; 2 New Units "For Sale"at RLJ

» NOTES
When I started Residencias Los Jardines, I started writing a weekly news letter —determined to tell all the good, bad, and the ugly. I knew some readers would be interested in the construction process. I expected others might be interested in the lifestyle of two people who had decided to live outside the box. For others, the adventures of lita, the parrot and the cat took on an entertainment saga all its own.

Residencias Los Jardines is finished. We periodically have resales and rental availability. Some readers may be interested in this information.

More and more, the content will be dominated by events of our new project, "El Dorado" for short. While the future is always uncertain, I again aim to tell it like it happens —the good, the bad, and the ugly, and that is what follows.

In an effort to make the format more interesting and visually appealing and to field inquiries re. El Dorado, the news letter is now being distributed by Jan Kozak, Marketing Manager, Hacienda El Dorado. I will remain the author.
»MARKETING, WEBSITE & SALES
Sales: Last week I wrote that "the investor group has disappeared." I guess they are still there but with this week's turmoil in the financial world, they have been otherwise occupied. Jan prepared a new Power Point Presentation and sent it to them. He's also posting the Open Letter to Investors on our website. Personally, I don't expect much from this but, we'll see.

We have one additional sale wrapping up now that we have completed the modified designs and priced it out. The paper work will begin.
» CONSTRUCTION LOG

Permit Applications: We have meet all the requirements for the well concession but it appears that on August 8, the Ministry of Environment in CR decreed that AyA (the authority responsible for water managemenr) would now have responsibility for issuing these permits. Right now, there does not seem to be any criteria in place nor are the lines of responsibility clear between MINAE and AyA on this issue. Until they sort it out, we may have to wait. When asked if we should push on this, we were advised that if they had to make a decision, they would reject it so as not to get someone's ass in a sling. We are seeing what can be done in the interim.

Most of the engineering and softer side of the information (archaeological, sociological impact, etc,) studies have been completed. The consultant is consolidating and integrating all this information. The remaining engineering data will be completed in the near future. The engineer responsible has figured out a way to eliminate the need for black water pumping stations and use all gravity to achieve our purpose. It took some directive intervention but eventually he figured out how it could be done.

The environmental consultant will submit a proposal to the regulatory authorities to allow us to put in the bridge, stabilize the wall for the Maya Tower, and the roadway to what will become the black water treatment plant.....

Sick Tree....it might live: Near building 14, is a large tree. It is magnificent for its size and that it is the only one in that area. For the past year, it hasn't performed as it should and we've been concerned about which way it was going to go. It is now leafing out and we have hopes that it will once again return to health and stability. We don't want to loose it. We will now proceed to design a house for that area which assumes the continued presence of it.

Note: I would be surprised if anyone on this distribution list is unaware of the world wide financial events this past week. All indications are that the problems aren't over and those which we know about, have yet to work their way through. The fact that we are delayed due to permitting issues, might be considered a "blessed" event. I would hate to be looking for construction financing and asking our purchasers to forward us the progress payment. According to our current schedule, we may be in that position in May; I hope the situation is different then and the future perspective looks brighter. Friday's action by the US government has given a glimmer of hope. However, we'll simply all have to stand by and witness what unfolds.
» RESIDENCIAS LOS JARDINES
Website Upgrade / Marketing:
Photos of Residencias Los Jardines, the Santa Ana area and some of the houses are available on line at:
https://picasaweb.google.com/gardenresidencesresort
I noticed that some of the pictures popping up on the opening page are very dated; this will be changed.
Drainage System:
No heavy rains yet to test it out.
Kirebe:
The consultant is suppose to meet with the City of Santa Ana official soon and have a resolution or at least a proposal or ???? to us. In the interim, we wait and hope we don't have substantial rains.
VOIP Phones:
They haven't worked well for the past several weeks. We thought it might be the re-wiring which was on going in the area and then we thought it might be our people and then we thought it might be our equipment. We brought in a technical person who quickly identified that the provider, CableTica was "shaving" off or filtering the bandwidth used by VOIP technology. I guess if we were to buy their service, we could have the bandwidth. We'll have to see how we handle this.
Accounting System:
We put it out to tender and are awaiting the response.
Satellite TV
: We will be installing a new, 3m dish at the end of the month. This should give us a strong enough signal such that there will be very few outages during heavy weather.
Garden Lights:
this work is nearly finished and it's nice to have the ambiance again.
Units for Sale/Lease: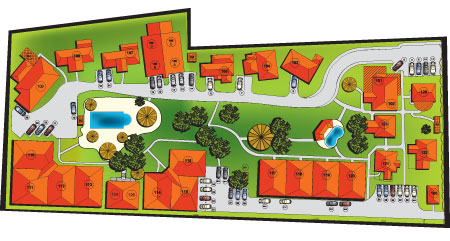 Note: For the past 18 months, we have been anticipating the sale of units 108 and 120. We have now been instructed to sell both. See below:

Unit #107 - For Sale
Total Area (Sq Ft): 1716
Total area (Sq M): 158
Bedrooms: 2
Bathrooms: 2.5
Floor(s): 2 Story
Type: Detached
Furnished: Yes

This 1,716 sf. (plus parking for one car) two story, detached house, with three terraces, two bedrooms (one on each floor) and upstairs master suite is a beautiful home. This home consists of two VERY large bedrooms (one on each floor) with en-suite bathrooms and a powder room, each with large closets with extensive built-ins for personal organization. The vaulted living room and ground floor bedroom ceilings as well as the master bedroom on the 2nd floor, provide a feeling of grandeur while allowing the warmer air to rise and exit through the ceiling ventilating system. There are three TVs (one in each bedroom and one in the living room.) This is a beautiful home. There is a rough-in for a dishwasher in the kitchen area.
Read More


» NEWS FROM COSTA RICA
If your browser does not support the hyperlinks below, you can view the COSTA RICA NEWS section on our website from the following URL:
» https://www.eldoradocostarica.com/English/News/index.php
September 19, 2008
Costa Rica Immigration Does Some Housecleaning
(The Tico Times) Immigration Director Mario Zamora has filed police reports against 24 of his own officials.

Read
September 19, 2008
Costa Rica Insurance Monopoly Seeks to Calm Nerves After AIG Rescue
(The Tico Times) Costa Rica's state insurance monopoly sought yesterday to calm clients worried about the fate of insurance giant American International Group (AIG), which reinsures 22 policies here and narrowly avoided bankruptcy this week.

Read
September 19, 2008
Second Cocaine Sub Fished Out by U.S.
(MSNBC.com) - Another 7 tons fished out, together they had street value near $400 million

Read
September 19, 2008
IHG Unveils New Club InterContinental Tower at the Real InterContinental Hotel & Club Tower Costa Rica
MIAMI, Sep 19, 2008 (BUSINESS WIRE) -- IHG (LON:IHG, NYSE:IHG (ADRs)), the world's largest hotel group by number of rooms, today announced the unveiling of the new Club InterContinental Tower at the Real InterContinental Hotel & Club Tower Costa Rica. The eight-story tower features 98 guestrooms, a 16,000-square-foot spa, an oversized club lounge, all accessed by a private lobby and reception area with private port-cochere.

Read
September 19, 2008
Arias' PLN Is First in Costa Rica
(Angus Reid Global Monitor) - The governing National Liberation Party (PLN) is the most popular political organization in Costa Rica, according to a poll by Unimer published in La Nación. 25 per cent of respondents would vote for the party of current president Óscar Arias in the next legislative election.

Read
September 18, 2008
Bill Would Cut Costa Rica Hotel Tax, Add $15 to Airfare
(The Tico Times) Frugal travelers might be happy to hear that the 3 percent hotel tax in Costa Rica could soon be a thing of the past.

Read
September 18, 2008
Escazu and Santa Ana to Have a New Alternate Access
(cratravel.com)Escazu is a widely popular town west of downtown San Jose. It is home to the largest number of expatriates in Costa Rica as well as the most flourishing and modern district in the region. A little further west is also the town of Santa Ana which has also attracted a number of expatriates and large multinational business firms.

Read
September 17, 2008
U.S.-Costa Rica Team Up to Bring Health Care to Indigenous Tribe
(The Tico Times) The U.S. Army and the Costa Rican Social Security System, also known as La Caja, are teaming up to provide health care to isolated indigenous people.

Read
September 17, 2008
Costa Rica President's Approval Plummets 21 Points
(The Tico Times) The morning after President Oscar Arias gave an Independence Day address that seemed more a resignation speech at times, a new Unimer poll suggests a remarkable number of voters may wish it had been just that – a farewell from Arias.

Read
September 17, 2008
US Navy Seizes Cocaine-laden Sub Off Costa Rica
SAN JOSE, Costa Rica (AP) — A Costa Rican official says U.S. authorities have intercepted a submarine-like vessel packed with tons of cocaine.

Read
September 16, 2008
Costa Rica Seeks More Time – Again – on CAFTA
(The Tico Times) For the second time, Costa Rica is seeking to extend its deadline for entering the Central American Free-Trade Agreement with the United States (CAFTA).

Read
September 16, 2008
Costa Rica President 'Tired' on Independence Day
(The Tico Times/EFE) Costa Rican school children marched to their own drumbeat throughout Costa Rica yesterday as the country joined other Central American countries in marking 187 years since the colonists broke away from Spain.

Read
September 16, 2008
World Bank approves Disaster Funding for Costa Rica
WASHINGTON, Sept 16 (Reuters) - The World Bank on Tuesday pre-approved $65 million in funding for Costa Rica, which the government will be able to access in the event of a natural disaster.

Read
September 15, 2008
Costa Rica Celebrates 187 Years of Independence Today
(Inside Costa Rica) Costa Rican president, Óscar Arias Sánchez, believes that the independence that is being celebrated today is an incomplete victory due to the many social problems affecting the country today.

Read
» OUR LIVES
Weather: Fairly light rain; mostly beautiful weather--many sunny, clear mornings with some afternoon cloud cover.

Time Out Tavern: Continues to delight and all who go, enjoy.

On Sunday, Lita and I will be taking a road trip probably to the eastern part of Costa Rica--the weather is better there this time of the year. Neither she nor I have spent much time there and she hasn't been there for many years. t's out 24th anniversary on Monday so ....... Little did we anticipate living in CR when that decision was made!!
Life Continues:
Saturday was the first birthday of the first child born to a American Irish and a Tica at Los Jardines. Well, as always, the Irish throw great parties and will use any excuse and the Ticos are not to be outdone. Morning 'til midnight, kids, parents, grandparents, friends, friends of friends, present and past residents, booze, food, and more booze.
We have a new couple on site who have come to CR to have their first child because they eventually want to immigrate to CR--that's planning ahead. She's due in 5 weeks or so; perhaps another cause for celebration-- we can only hope.
Brian, Lita, Hugo, irreverent Vicka, the pigeon toed parrot, and the newbies — Chico and Chica.