Three Sales Each: El Dorado and Los Jardines

» NOTES
When I started Residencias Los Jardines, I started writing a weekly news letter —determined to tell all the good, bad, and the ugly. I knew some readers would be interested in the construction process. I expected others might be interested in the lifestyle of two people who had decided to live outside the box. For others, the adventures of lita, the parrot and the cat took on an entertainment saga all its own.

Residencias Los Jardines is finished. We periodically have resales and rental availability. Some readers may be interested in this information.

More and more, the content will be dominated by events of our new project, "El Dorado" for short. While the future is always uncertain, I again aim to tell it like it happens —the good, the bad, and the ugly, and that is what follows.

In an effort to make the format more interesting and visually appealing and to field inquiries re. El Dorado, the news letter is now being distributed by Jan Kozak, Marketing Manager, Hacienda El Dorado. I will remain the author.
»MARKETING, WEBSITE & SALES
Webdesign: Jan continues to add content and links to the website.

Sales: Three sales are in the making.

Newsletter: Last week was the first time we were able to deliver the letter as individual pieces of e-mail vs. a group. We received an unusual number of responses from "first timers"; the feeling is that by having sent the letter to a number of people at the same tive via Gmail, the e-mail was seen as spam by some software. It appears we are now getting much getter penetration and it is much easier for us.
» CONSTRUCTION LOG
Office Building: We continue to wait for the permit.

Fence: This moves slowly along. The cement block work is nearly done; parging is underway. The height has cause the squatter neighbors to "disappear". We've started to plant some bamboo to now hide the fence and create a green wall as well as enhance the security barrier. It will take several years for the bamboo to fully grow in.


The neighbors are completely blocked out. We've started to plant bamboo along the wall...


Use of the Well Water: We have continued to be given the royal shell game. On Friday, our engineer was successful in finally talking with MINEA only to find out they wanted a third copy of the survey and an explanation as to why their plan didn't match our plan......simple, they had an old copy. What consumed a month of BS was straighten out in 10 min. We continue to wait with more promises.

Gaviones: We have applied for additional gaviones. We have backfilled what we have built and have rough graded the land behind them next to the river. One can now begin to see the makings of what will become a landscaped pathway along the stream.


One can now begin to see the makings of what will become a landscaped pathway along the stream

Additional Fill: We're taking advantage of the dry period to add soil in areas 15,16, and 17 and also at the back of 13 and 14.


Redesign Buildings 14 and 18: Bldg. 18 will become a Single Balboa--we're working on the design and Bldg. 14 still requires work.

Winding Down: We haven't started but expect to in about a week.
MEET THE DREAMMAKERS
Leonel



Leonel is originally from the very northern part of Nicaragua, 25 years old, single, moved to Costa Rica four years ago in search of better quality of life as opportunities for ok-paying employment in his home country are scarce. He has worked with us since last October, lives in Salitral (a small Santa Ana neighborhood on the other side of the mountain ridge east of Hacienda El Dorado) with a friend of his, renting a tiny apartment paying approximately $100 rent a month ($50 each).

As many of his countrymates, Leonel comes from a large family. He has 4 brothers (2 work on construction sites in Costa Rica, 1 works on a construction site in Mexico and 1 is a farmer in Nicaragua) and 4 sisters all of which work as domestic workers (1 in Costa Rica, 2 in Nicaragua and 1 in Spain).

He is not particularly demanding. He earns 228,000 colones a month ($440) of which $50 goes to rent and maybe $150 goes to buy food. The rest he saves. He does not intend to remain in Costa Rica forever. His uncle has a piece of land in Nicaragua deemed highly suitable for coffee growing. Leonel hopes to save some $6,000 which he wants to invest into his uncle's coffee farm. He may need some 2-3 years to accomplish this.

In his free time, he enjoys staying home and watching TV. He acknowledges that he does not like going out as Costa Rica is too expensive for him. Along similar lines, he says he is not interested in finding himself a girlfriend... "They tend to be expensive," he argues.
» RESIDENCIAS LOS JARDINES
Website Upgrade / Marketing:
Photos of Residencias Los Jardines, the Santa Ana area and some of the houses are now available on line at:
Sales: The paperwork re. the sale of 103, 124, and 125 is now complete and partially signed. This next week should see the completion of 125 and 103. The closing of 124 is scheduled for July 15.

Faucet Burst: The week before, we had two pipes burst; this week at 10:30 one evening, the top of a faucet blew off. Why? It must have been a defective product -- we get a lot of them here in CR. We quickly isolated the supply, spent the next hour cleaning out the water, and fixed it the next morning.

Office Staff: Esther announced she is quitting. We are interviewing two people to replace her.

Units for Sale/Lease:
Unit 114 - For Sale
Total Area (Sq Ft): 1290
Total area (Sq M): 120
Bedrooms: 2
Bathrooms: 2
Floor(s): Single Floor
Type: Attached
Furnished: Yes

This 1,290 sf. (plus covered parking for one car and two lockers 67 sf.) single story, semi detached house, with garden terrace, two bedrooms is a beautiful executive style home. This home consists of two large bedrooms one with six piece en-suite bathroom with additional access to separate full shower. Each bedroom has large closets with extensive built-ins for personal organization. The vaulted living room and bathroom ceilings provide a feeling of grandeur while allowing the warmer air to rise and exit through the ceiling ventilating system. There are four TVs (one in each bedroom, one in the living room and one in breakfast / dinning room.) This is a beautiful well appointed home.
Read More

Unit 124 - For Rent
Total Area (Sq Ft): 662
Total area (Sq M): 61
Bedrooms: 1
Bathrooms:1
Floor(s): 2nd Floor
Type: Semi-Detached
Furnished: Yes

This 662 sf, + covered parking for one car, is a one bedroom home on the 2nd floor overlooking the large pool. It is ideal for a single person or couple.
Read More
Unit #107 - For Sale
Total Area (Sq Ft): 1716
Total area (Sq M): 158
Bedrooms: 2
Bathrooms: 2.5
Floor(s): 2 Story
Type: Detached
Furnished: Yes
This 1,716 sf. (plus parking for one car) two story, detached house, with three terraces, two bedrooms (one on each floor) and upstairs master suite is a beautiful home. This home consists of two VERY large bedrooms (one on each floor) with en-suite bathrooms and a powder room, each with large closets with extensive built-ins for personal organization. The vaulted living room and ground floor bedroom ceilings as well as the master bedroom on the 2nd floor, provide a feeling of grandeur while allowing the warmer air to rise and exit through the ceiling ventilating system. There are three TVs (one in each bedroom and one in the living room.) This is a beautiful home. There is a rough-in for a dishwasher in the kitchen area.
Read More

Unit #112 - Available for Rent
Total Area (Sq Ft):1290
Total area (Sq M):120
Bedrooms:2
Bathrooms:2
Floor(s):1 Story
Type:Attached
Furnished:Yes
This 1,290 sf single floor home includes a 300 sf front terrace plus parking for one car. It is attached on two sides by a 6 inch cement demising (common) wall, which prevents sound transfer.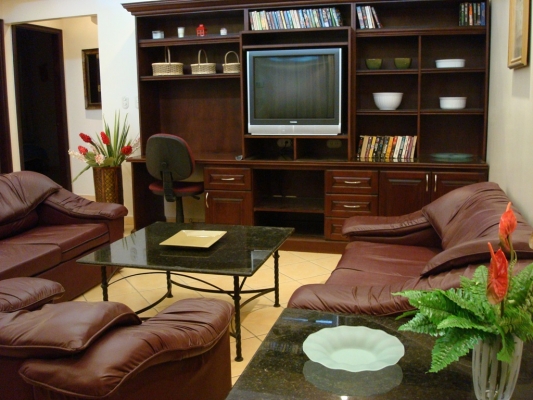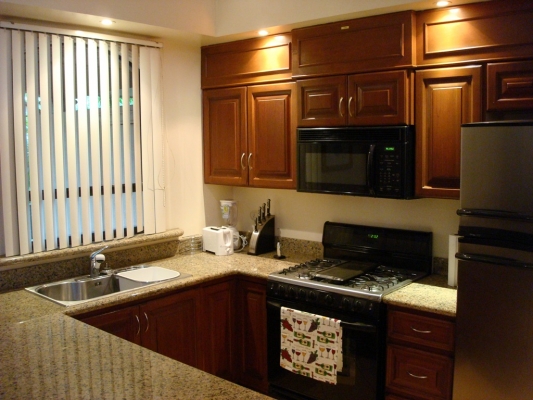 Read More
»EXPLORING SANTA ANA & ESCAZU

Le Monastere Restaurant
LE MONASTERE -Resting hillside on the Escazú mountains with a 270 grades view over the central valley is the elegant and romantic LE MONASTERE RESTAURANT, where the exquisite flavuors of European Cuisine are combined with a mystical ambiance and impeccable attention to detail. Indulge in the delicate taste of flambé right at your table with the Venison tenderloin Port Flambé, Shrimp Singapore or Steak Diane, or try the Wild Boar Chops with Essence of Truffle or Fried Camembert with Blackberry Sauce.THE GRILL LA CAVA also located on the premises, offers live music on weekends and a less formal atmosphere inside an old wine cellar beloging to the monks of this old monastery. Open for dinner M-W 7pm and -10:30pm and TH-Saturday 7pm- 11pm, Sunday closed.

www.monastere-restaurant.com

Phone: 2289-4404
Fax: 2228-6370
Email: reservations@monastere-restaurant.com
» NEWS FROM COSTA RICA
If your browser does not support the hyperlinks below, you can view the COSTA RICA NEWS section on our website from the following URL:
» https://www.eldoradocostarica.com/English/News/index.php
June 28, 2008
Real Estate Investing in the Path of Progress. First buildings completed in Forum II
(WeLoveCostaRica.com) The new Forum II is on 6.5 hectares of land less than a kilometer away from Forum I. Construction is going ahead based on the needs of foreign companies doing business in Costa Rica and the success of Forum I.
Read

June 27, 2008
Contacts with Cuba
(La Nacion) The months of tension between the governments of Oscar Arias and Raul Castro seem to have come to an end.
Read

June 27, 2008
Food Concerns
(La Nacion) The Government of Costa Rica is resorting to the Central America Economic Integration Bank for the funds needed to finance a program to stimulate the growing of basic grains.
Read

June 27, 2008
Coffee to Czech Republic
(La Nacion) The Foreign Trade Promoter disclosed that a Czech-Costa Rican company, NAVCAFE, will market coffee in the European nation.
Read

June 27, 2008
Drop in Remittances
(La Nacion) Costa Rica's income from remittances dropped to almost $108 million this year's first quarter, the smallest quarterly amount recorded since early 2006.
Read

June 25, 2008
Global Warming Moves Costa Rica Coffee Land Higher
SAN JOSE, Costa Rica (Reuters) - Costa Rican coffee farmers are facing threats from climate change but the rising temperatures are also expanding high-altitude regions where the country's most prized beans are grown.
Read

June 25, 2008
Costa Rica Minimum Wage Up to $346.40 per Month
(The Tico Times) Costa Rica's National Salary Council on Monday green-lighted a 6.58 percent increase on minimum wages in the private sector for July 1, which the Labor Ministry says should help "recuperate the purchasing power" of the nation's lowest earners in the face of a rising living costs.
Read

June 23, 2008
Costa Rica Bank Offers Account in Euros
(The Tico Times) Banco Nacional launched a new product that caters to the euro-toting crowd, combining the functions of a savings account with that of an interest-bearing investment tool.
Read

June 23, 2008
Central America: New Distribution System
(Latin Business Chronicle) Producers looking for competitive advantages need to study carefully the Central American market dynamics.
Read

» OUR LIVES
Weather: We've had very little rain. This is the mini-summer which usually lasts several weeks. A wonderful time of the "rainy season".

Cycling Accident: Paul continues to convalesce. He's still badly bruised but is walking and getting around a bit. Most of his abrasions are substantially healed. Time will do the rest.

Lita: She's still going to the gym. She cooked a great pineapple/apple/stawberry pie the otherday.

Parrot: Early one morning we heard a thump. We couldn't determine the source. Later when I started on my rounds and Lita was putting Vicka into the tree, I found a dead bird with his neck broken. Lita turned to the parrot and said: "See what could happen to you if you aren't good! ......and the parrot went very quiet and scampered into the tree.